The Journal of the American Medical Association (JAMA) reports an important study regarding womens' health on the connection between Hormone therapy and ovarian cancer.
The research measured the risk of ovarian cancer (OC) in perimenopausal and postmenopausal women receiving different hormone therapies.
The results showed that hormone therapy increased the risk of ovarian cancer in women regardless of:
Duration of therapy
Formulation of the drugs
Estrogen dose
Progestin type
Path of administering the drugs
The adverse effects of hormone therapy in women continue to mount. Spread the word to those women in your life and to doctors who promote this therapy.
Here are the details of the study methodology:
Danish women aged 50 through 79 yrs from 1995 through 2005.

Redeemed prescription data from the National Register of Medicinal Product Statistics provided individually updated exposure information.

The National Cancer Register and Pathology Register provided OC incidence data.

Information on confounding factors and effect modifiers was from other national registers.

Poisson regression analyses with 5-yr age bands included hormone exposures as time-dependent covariates.

909,946 women without hormone-sensitive cancer or bilateral oophorectomy were included.
And here are the deatiled results:
In an average of 8.0 yrs of follow-up (7.3 million women-yrs), 3068 incident OCs, of which 2681 were epithelial cancers, were detected.

Compared with women who never took hormone therapy, current users of hormones had incidence rate ratios for all OCs of 1.38 and 1.44 for epithelial OC.

Risk declined with yrs since last use: 0 to 2 yrs, 1.22; >2 to 4 yrs, 0.98; >4 to 6 yrs, 0.72; and >6 yrs, 0.63.

For current users risk of OC did not differ significantly with different hormone therapies or duration of use.

Incidence rates in current and never users of hormones were 0.52 and 0.40 per 1000 yrs, respectively, ie, an absolute risk increase of 0.12 per 1000 yrs.

This approximates 1 extra OC for roughly 8300 women taking hormone therapy each yr.
Ovarian cancer is a major health threat to women and when a woman is diagnosed there is never a way to determine what caused the cancer. It is only through proactive poreventative measures during a owman's life that they can protect themselves. Many lives will be saved if women take precautions by avoiding hormone therapy.
Those associated with the sytudy are: Gynaecological Clinic, Rigshospitalet, Copenhagen University, Copenhagen (Ms Mørch and Dr Lidegaard); Gynaecological-Obstetrical Department, Hillerød Hospital, Copenhagen University, Copenhagen (Dr Løkkegaard); Research Center for Prevention and Health, Glostrup University Hospital, Glostrup, Denmark (Mss Mørch and Andreasen), Glostrup; and Department of Virus, Hormones and Cancer, Institute of Cancer Epidemiology, Danish Cancer Society, Østerbro, Denmark (Dr Krüger-Kjær).
Another view of this subject is found in a publication of the New England Journal of Medicine (NEJM):
"Menopausal HT and Ovarian Cancer: Causal Role Remains Unclear – A Danish prospective cohort study showed HT use was associated with modest excess risk."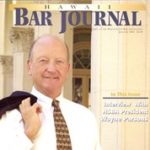 A resident of Honolulu, Hawaii, Wayne Parson is an Injury Attorney that has dedicate his life to improving the delivery of justice to the people of his community and throughout the United States. He is driven to make sure that the wrongful, careless or negligent behavior that caused his clients' injury or loss does not happen to others.