Hearings began on Tuesday, May 12th before the Subcommittee on Health on H.R. 1346, The Medical Device Safety Act of 2009. I explain it below but before you go any further make sure to read the excellent analysis of Cecelia Prewett: House Energy and Commerce Subcommittee Considers Ability of FDA to Regulate Medical Devices.
Bruce Braley, a Member of this Subcommittee has been aggressively advocating for this hearing, and will be actively participating, in an effort to pass this important piece of legislation. Here is what Congressman Braley from Iowa has to say on the subject:
The Medical Device Safety Act of 2009 is needed to ensure that every American patient has the ability to hold manufacturers of defective medical devices accountable for injuries and deaths caused by unsafe products. It would also prevent these manufacturers from receiving total immunity from any claims simply by virtue of receiving a Food and Drug Administration device approval. This bill clarifies the intention of Congress to keep American patients safe by maintaining complementary systems to protect consumers through the FDA and American courts.

The need for this legislation was made evident in the Supreme Court's flawed decision in Riegel v. Medtronic, which completely ignored Congressional intent regarding the ability of injured patients to hold medical device manufacturers accountable for their injuries. This bill will restore Congress' original intent to allow injured patients to recover for their injuries caused by manufacturers of defective and dangerous medical devices.
I hope that everyone will call their represenatives in Congress to support this Bill. The video shows how to call Senator Grassley also of Iowa to get him to support the bill. Here is you can do it easily:
http://www.youtube.com/watch?v=rrQBFW0EfvY
How easy is that? Please use this as a script for yourself on this and other legislation.
What do you think about companies putting dangerous products on the market? Here is an informative video about defibrillators and other medical devices.
http://www.youtube.com/watch?v=Ai_TB6IxZBA
Can you believe it that our Congress has allowed manufactuers to avoid responsibilty in many of these situations. Shame on you Medtronic!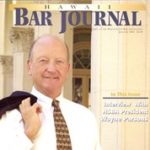 A resident of Honolulu, Hawaii, Wayne Parson is an Injury Attorney that has dedicate his life to improving the delivery of justice to the people of his community and throughout the United States. He is driven to make sure that the wrongful, careless or negligent behavior that caused his clients' injury or loss does not happen to others.