As reported in the Honolulu Star advertiser "Herringbone closes amid illness, report says". The closing came after patrons on the weekend reported becoming ill. Hawaii News Now reported that:    
Health officials say they're investigating a "possible norovirus issue," and they believe exposure appears to be limited to those who ate at the restaurant this past weekend.
The Health Department got its first report of illness from a diner on Monday.
That person had dined at the restaurant over the weekend. Five people in the diner's party had become ill, the Health Department said.
Officials then received several other reports from other patrons of the restaurant. All have recovered after one to two days of being ill.
Herringbone, located at the International Market Place, shuttered its doors on Thursday following a report of possible food poisoning.
Norovirus is the virus commonly associated with stomach flu and can be found in contaminated food. Symptoms (nausea, cramping, diarrhea) start within 24 – 48 hours of consumption. Most sypmptoms resolve without further complications but can be more serious and lead to devastating illness in some people.
Hawaii residents may recall a norovirus scare when the cruise ship Star Princess docked  on Maui in 2015. The Hawaii News Now reported at that ship passengers were quarantined on the ship because of the contagiousness of norovirus:
According to the CDC website, norovirus is highly contagious and can be contracted through contact with an infected person, touching contaminated surfaces or consuming contaminated food or water. The virus can cause vomiting, stomach pain, nausea and diarrhea. Norovirus is also known as "stomach flu" or "food poisoning."
 The Hawaii Department of Health website contains helpful facts about prevention:
How can you keep from getting it?
Wash your hands well after using the toilet, changing diapers and before preparing or eating food. After changing diapers, wash the child's hands as well as your own.

Carefully wash fruits and vegetables, and cook or steam oysters before eating them.

Immediately clean and disinfect surfaces contaminated with stool or vomit by using bleach-based household cleaner.

Immediately remove and wash soiled clothing or linens that may be contaminated with virus (use hot water and soap).

Flush or discard any vomitus and/or stool in the toilet and make sure that the surrounding area is kept clean.
In 2013 there were national reports of a stronger strain of norovirus sweeping the country "Doctors Warn of New Stomach 'Superbug' Hitting U.S." January 26, 2013, By RICHARD BESSER. Whether the trecent Hawaii incident involves that superbug is not yet known but Hawaii has experienced other norovirus incidents in restaurants and on cruise ships.
I am a local Hawaii attorney and for over 30 years have represented pers0ns injured in Hawaii by food poisoning and other causes. I am currently representing a number of people who contracted Hepatitis A after consuming contaminated scallops at Genki Sushi. I am available to answer questions that people may have regarding the Herringbone norovirus outbreak. In addition to calling my office feel free to call me on my cellphone  at any time: 808-753-0290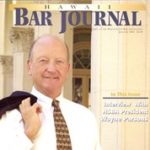 A resident of Honolulu, Hawaii, Wayne Parsons is an Injury Attorney that has dedicate his life to improving the delivery of justice to the people of his community and throughout the United States. He is driven to make sure that the wrongful, careless or negligent behavior that caused his clients' injury or loss does not happen to others.