Traumatic brain injury (TBI) can be anything from a paralyzing injury to a very subtle, almost imperceptible change in brain function. Sometimes the latter are missed by both the family and their doctors. All brain injuries are serious.
Brain injury to a child is a tragedy that every parent and coach wants to avoid. And when a child suffers a concussion, getting the best treatment and rehabilitation is imperative.
In Hawai'i here are some starting points for parents and coaches. First look into the following organizations that provide information, resources and support in the area of traumatic brain injury and a short description provided by each:
Neuro-Trauma Registry – The Hawaii Neurotrauma Registry Project (HNTR) recently entered its fourth year of work in the area of neurotrauma injuries (stroke, traumatic brain injury, spinal cord injury). HNTR is funded by the State of Hawaii Department of Health, Developmental Disabilities Division, Community Resources Branch and is administered by the Pacific Disabilities Center. The project's three main goals are: 1) enroll as many Hawaii residents of all ages with neurotrauma injuries into the Registry (which consists of taking a survey); 2) educate the public about neurotrauma injuries; and 3) provide an information and referral service for all residents with these injuries, regardless of whether they choose to take the survey or not.
State Traumatic Brain Injury Board – The mission of the State Traumatic Brain Injury Advisory Board is to "advise the Department of Health in the development and implementation of a comprehensive plan to address the needs of persons affected by disorders and disabilities that involve the brain."
Readers may also be interested in The Brain Injury Research Institute which has information on various types of TBI. Watch this column for more information for families or persons who want to know more about TBI and other associated conditions like the condition brought to light in the NFL football players lives, Chronic Traumatic Encephalopathy or  CTE.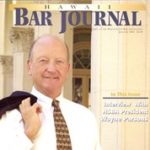 A resident of Honolulu, Hawaii, Wayne Parsons is an Injury Attorney that has dedicate his life to improving the delivery of justice to the people of his community and throughout the United States. He is driven to make sure that the wrongful, careless or negligent behavior that caused his clients' injury or loss does not happen to others.