Jamie Sheller, a nationally recognized authority in holding corporations accountable for selling products that, when used as they were intended, injure and kill the users, has recently written about ovarian cancer deaths alleged to be caused by talcum (baby) powder in Ovarian Cancer and Talcum Powder Update:
A Missouri jury recently awarded a California woman a $70 million verdict after finding that Johnson & Johnson was liable for the injuries she suffered as a result of using the company's talcum powder products, according to the Alabama law firm who represents her. This is the third large verdict against Johnson & Johnson regarding its talc-containing products, which include Johnson's Baby Powder and Shower to Shower body powder for feminine hygiene. The first award earlier this year – $72 million – and another woman,  was awarded $55 million in a separate verdict.
She notes that over 1,000 lawsuits have already been filed for women across the country whose ovarian cancer is alleged to have come from regular use of products containing "talc which is a mineral found in personal care products, often in the form of powder, such as in Johnson & Johnson's popular Baby Powder and Shower to Shower products."
I represent two Hawai'i women suffering from ovarian cancer connected with the use of baby powder containing talc. We have filed a lawsuit for one of the them and will be filing more lawsuits in the near future. The corporations responsible for putting these products on the shelves have adamantly refused to acknowledge or take responsibility for the harm caused, claiming that their products do not cause cancer. In the lawsuits that have gone to trial where a jury got a chance to hear the defense put up by the manufacturers, the result was a resounding finding of fault against the products. The jurors saw all of the evidence. Many women in Hawai'i have used baby powder all of their lives.
On the treatment side, new treatments for ovarian cancer offer hope to women with ovarian cancer:
Be aware.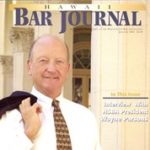 A resident of Honolulu, Hawaii, Wayne Parsons is an Injury Attorney that has dedicate his life to improving the delivery of justice to the people of his community and throughout the United States. He is driven to make sure that the wrongful, careless or negligent behavior that caused his clients' injury or loss does not happen to others.