Supreme Court Justice Souter's planned retirement was heavily covered by the media, appearing on the front page of major national newspapers. The AP (5/1, Sherman, Loven) reports that Supreme Court Justice David Souter is planning to retire "in June, when the court finishes its work for the summer, a source familiar with his plans said." However, "he almost certainly would remain on the bench until a successor is confirmed." The move "is unlikely to alter the ideological balance on the closely divided court because Obama is certain to replace the liberal-leaning justice with someone with similar views," but it could mean another woman on the bench. "The Obama White House began from almost its first days in office preparing for the possibility of a retirement by thinking about and vetting potential high court nominees." Names that have been circulating include "Solicitor General Elena Kagan; U.S. Appeals Court Judges Sonya Sotomayor, Kim McLane Wardlaw, Sandra Lea Lynch and Diane Pamela Wood; and Leah Ward Sears, chief justice of the Georgia Supreme Court. Men who have been mentioned as potential nominees include Massachusetts Gov. Deval Patrick, Harvard Law professor Cass Sunstein and U.S. District Judge Ruben Castillo of Chicago." Meanwhile, interest groups "began gearing up for what could be a grueling battle over a high court vacancy."
In a front-page story, the New York Times (5/1, A1, Baker, Zeleny) reports "Confirmation battles for the Supreme Court in recent years have proved to be intensely partisan and divisive moments in Washington, but Mr. Obama has more leeway than his predecessors because his party holds such a strong majority in the Senate." Still, it "could prove to be one more challenge for a president already engaged on multiple fronts to pass health care, energy and other legislation," or become "a test of Mr. Obama's plans for reshaping the nation's judiciary." Meanwhile, people briefed on Souter's plans say he "has grown increasingly sour on Washington and intends to return to his home state, New Hampshire." On its front page, the Los Angeles Times (5/1, A1, Savage) reports, "Souter has also voiced frustration with the court's conservative drift of late."
According to the Washington Post (5/1, Barnes), "speculation has been fueled in recent weeks because Souter had not hired clerks for the term that begins in October." The Post adds that Obama's nominee to replace Souter "would almost surely have a similar ideological outlook. Most court observers also believe Obama would be likely to choose a woman."
An article on the front-page of the Wall Street Journal (5/1, A1, Bravin, Hitt) reports, "To have a new justice in place by the beginning of the court's term in October would mean conducting a Senate confirmation process at the same time as Congress would debate the other big legislative issues and face deadlines for action on spending bills." The Journal add that the Administration "is likely to be careful not to inflame passions among moderate Democrats and Republicans, who might be inclined to filibuster if a strongly liberal choice is put forward."
The Politico (5/1, Smith, Gerstein) reports Obama faces "competing imperatives in replacing him, including the pressure to appoint the first Hispanic to the Supreme Court and his own ties to prominent legal academics beginning with his years at Harvard Law School."
NPR (5/1, Totenberg) reports that factors in Souter's "decision no doubt include the election of President Obama, who would be more likely to appoint a successor attuned to the principles Souter has followed," as well as conforming that neither Justice John Paul Stevens nor Justice Ruth Bader Ginsburg "wanted to retire at the end of this term."
Bloomberg News (5/1, Stohr) reports, "NBC News and National Public Radio first reported the news of Souter's decision. Supreme Court spokeswoman Kathy Arberg said the justice had no comment on the reports." The Hill (5/1, O'Brien), Roll Call (5/1), the Boston Globe (5/1, Canellos, Valencia), the New York Daily News (5/1, Standora), the National Law Journal (5/1, Mauro), and CNN (5/1) also cover this story.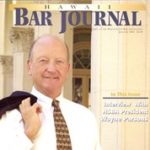 A resident of Honolulu, Hawaii, Wayne Parson is an Injury Attorney that has dedicate his life to improving the delivery of justice to the people of his community and throughout the United States. He is driven to make sure that the wrongful, careless or negligent behavior that caused his clients' injury or loss does not happen to others.