In the Wall Street Journal on March 23 David Armstrong writes in his Health Blog that the Journal of the American Medical Association (JAMA):
"says it is adopting a new policy under which anyone asserting that study authors have failed to disclose conflicts of interest should keep the matter confidential until JAMA investigates."
The decision comes after Jonathan Leo, a professor of neuro-anatomy at Lincoln Memorial University, "published a letter in another medical journal, BMJ, that highlighted an unreported conflict of interest in a study published by JAMA." Perhaps the energetic response from the doctors and drug manufacturers through the AMA and the Wall Street Journal is because the journal BMJ is a completely transparent on line journal that allows the public to see full articles at no cost. As with the Blog you are reading now – my Blog – this is a part of the democratization of the media – the Groundswell as it is popularly described. The AMA reacted emotionally calling Jonathon Leo, who is a scientist with a Ph.D., "a nobody". The power brokers hate it when their insider, privileged status is challenged. As Armstrong writes in his Blog:
Editors of The Journal of the American Medical Association, better known as JAMA, can be a little thin-skinned when it comes to outsiders taking issue with studies published in the prestigious medical journal.
Mainstream power brokers hate to be challenged by anyone. JAMA is one of the dinosaurs, living inside an ivory tower and only dealing with people with powerful connections and a lot of money. The medical profession is not well served by elitism like this but most rank and file physicians are thought of as "nobody" by the once powerful AMA and JAMA.
According to Bloomberg News (3/23, Cortez), the journal's new policy "was introduced in an editorial published on line on March 20." Catherine DeAngelis, editor-in-chief of JAMA, and Phil Fontanarosa, executive deputy editor, stated that "in the future, whistle blowers must provide a detailed, written explanation of conflicts and provide documents to support their conclusions." Leo had initially reported that "a researcher studying Forest Laboratories Inc.'s Lexapro for preventing depression in stroke patients failed to disclose previous work for the drug company" to "JAMA in October 2008 after the journal confirmed that being on a speakers' bureau of a pharmaceutical company would constitute a conflict of interest that should be declared."
The powerful doctors lobby and insider publications like the Wall Street Journal no longer can control what the public sees and disclosure through new sources of public information will provide a better educated public. The political power groups do not want the public to know the facts. Fortunately for the public, it is too late for their type of control to work. Jonathon Leo's assertions will stand on their own merits and will be exposed to praise, criticism and response in full public view. Take a look at the Journal BMJ. It seems like a helpful resource on a variety of medical subjects.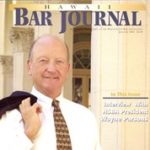 A resident of Honolulu, Hawaii, Wayne Parson is an Injury Attorney that has dedicate his life to improving the delivery of justice to the people of his community and throughout the United States. He is driven to make sure that the wrongful, careless or negligent behavior that caused his clients' injury or loss does not happen to others.