Over 200 people have been treated contaminated scallops consumed at Genki Sushi restaurants on Oahu and Kauai. Creating news nationwide this outbreak of hepatitis A is one of the largest in the nation's history. The Hawaii Department of Health has again responded in outstanding fashion to protect the community. The source of the contamination has been identified, apparently frozen raw scallops imported from the Philippines and the restaurants have been temporarily closed down. Many concerned people have been getting hepatitis A inoculations as a precautionary measure. Many others have been diagnosed with hepatitis A and have experienced very severe illness which hopefully over time will subside.
The illness can be contracted through contact with an infected person. Over two dozen restaurants have been closed down and workers at those restaurants became ill after being exposed to the sushi and its contaminants. Thus, everyone should be concerned even though the restaurants have been closed down and the cause of the problem identified. The question is who should get inoculated as a preventative measure?
As reported in a recent article in Pacific Business News some health officials are saying that not everyone needs to be inoculated:
In the past two weeks alone, more than 130 companies have contacted the Hawaii Medical Assurance Association to schedule mass vaccinations at the workplace, said Reagan Vaughan, HMAA's wellness director. About 40 percent of them have booked on-site pharmacist visits, she said.

HMAA has partnered with the pharmacy departments at Safeway and Times Supermarkets to schedule the clinics. The pharmacy chains are getting so heavily booked that they are requesting employers to make reservations for groups of at least 25 workers at a time, up from 15 at a time now.

Not everyone needs to be vaccinated, Vaughan said. She said health officials recommend that people who should seek vaccination are those who have had had close contact with an infected person or workers in the restaurant and hospitality industry.
Many Restaurant owners (there are 3,300 restaurants here) are having their staff' inoculated. The State Department of Health (DOH) has published a list of places to get the vaccine. A lot of people are being vaccinated according to Pacific Business News:
Hawaii pharmacies are getting a windfall from the hepatitis A outbreak as customers rush to get vaccinated against the virus-borne ailment that state health officials have traced back to tainted seafood served at a sushi chain.

At the Safeway pharmacy on Kapahulu Avenue, for example, pharmacists typically vaccinate about 10 people a week for hepatitis A. Most are travelers heading to exotic locations in China, Vietnam or Africa.

Now the four Safeway pharmacies on Oahu are vaccinating more than 200 people a day, including more than 100 at the Kapahulu store, a 10-fold increase.

The medicine costs $95 a dose, and two doses are required, the first treatment six months to a year after the first. Most insurers are covering the cost; some insurers are requiring a co-pay. Some insurers are requiring people to pay for the vaccination and then submit claims for reimbursement.
The vaccine itself has been around since 2005:
GENERIC NAME: hepatitis A vaccine

BRAND NAME: Havrix, Vaqta

DRUG CLASS AND MECHANISM: Hepatitis A vaccine (Havrix, Vaqta) is used to prevent hepatitis A, a type of liver disease that is caused by the hepatitis A virus (HAV). Hepatitis A is usually spread when a person ingests fecal matter from contact with food, drinks, or objects which have been contaminated by feces or stool of an HAV-infected person. Hepatitis A infection can be mild with no symptoms or a serious illness that can rarely cause liver failure and death. Getting vaccinated against the hepatitis A virus is the best way to prevent these problems.

The hepatitis A vaccine does not cause hepatitis because it does not contain the live virus. It contains inactivated hepatitis A virus. The vaccine works by stimulating the body to produce antibodies, which are proteins that will fight and kill the virus and prevent hepatitis A infection.

Hepatitis A vaccine was approved in 2005.

PRESCRIBED FOR: Hepatitis A vaccine is used to prevent hepatitis A. Hepatitis A vaccine can be used in persons 1 year of age and older.
The vaccine cannot cause Hepatitis A as it does not contain the live virus.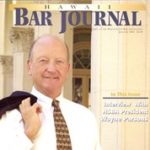 A resident of Honolulu, Hawaii, Wayne Parsons is an Injury Attorney that has dedicate his life to improving the delivery of justice to the people of his community and throughout the United States. He is driven to make sure that the wrongful, careless or negligent behavior that caused his clients' injury or loss does not happen to others.