All Americans can celebrate the breaking news regarding a landmark achievement that was announced today in Washington D.C. From now on, the regulatory preemption of state common law will be strictly limited. Even regulations issued within the past 10 years will have to be reviewed and in some cases amended.
This is a major victory for the rights of all Americans under state law.
President Obama issued a Directive to the Heads of all Executive Branch Departments and Agencies stating it is the policy of his Administration that "preemption of State law by executive departments and agencies should be undertaken only with full consideration of the legitimate prerogatives of the States and with a sufficient legal basis for preemption." Preemption of state common law will no longer be presumed or asserted by regulatory agencies absent "explicit preemption by Congress or an otherwise sufficient basis under applicable legal principles."
In order to ensure that executive departments and agencies include statements of preemption in regulations only when such statements have a sufficient legal basis, the President's directive provides that:
"1. Heads of departments and agencies should not include in regulatory preambles statements that the department or agency intends to preempt State law through the regulation except where preemption provisions are also included in the codified regulation.
2. Heads of departments and agencies should not include preemption provisions in codified regulations except where such provisions would be justified under legal principles governing preemption…
3. Heads of departments and agencies should review regulations issued within the past 10 years that contain statements in regulatory preambles or codified provisions intended by the department or agency to preempt State law, in order to decide whether such statements or provisions are justified under applicable legal principles governing preemption. Where the head of a department or agency determines that a regulatory statement of preemption or codified regulatory provision cannot be so justified, the head of that department or agency should initiate appropriate action, which may include amendment of the relevant regulation."
This is an enormous victory. It reflects what we believe the law in reality has always been and how it should always have been applied. President Obama is correcting a decade of abuse of the regulatory process and this step signifies a triumph both for states' rights and for the legal rights of all Americans and their families. Please join me in congratulating the President of the United States. I would also note the tireless work by Gerie Voss and the American Association of Justice (AAJ) in helping to make this possible.
I have written on the subject of preemption before:
House lawmakers hear debate over medical device preemption.
Tort Reform For Victims of Unsafe Medical Devices: Pass The Medical Device Safety Act of 2009
Federal Preemption Puts Consumers At Risk According To Observers
Bush Administration Midnight Regulations On Preemption Take Away Right To Sue
The efforts to use federal regulations to over-rule state law is the ultimate sneak attack on the American citizenry. Hoping that the public is too busy to know what goes on is this obtuse world of complex regulations, the safety and health of the country has been put at risk. why? You guessed it: corporate profits! Companies make more money when they don't have to pay a person who they injure. Preemption does just that. A Get-Out-Of-Jail Free card for the folks in Big Pharma and the world of dangerous products. President Obama has sent out the battle cry. He will need the publics support to make this work. Only with all of you can his efforts succeed. Together we are strong!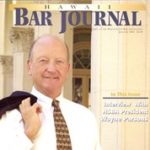 A resident of Honolulu, Hawaii, Wayne Parson is an Injury Attorney that has dedicate his life to improving the delivery of justice to the people of his community and throughout the United States. He is driven to make sure that the wrongful, careless or negligent behavior that caused his clients' injury or loss does not happen to others.