New cancer treatments are exploding around the world. This month 32,000 researchers from around the world convened for the 55th American Society of Clinical Oncology (ASCO) Annual Meeting to present their findings in the treatment of all cancers. There were over 5,600 new research results presented. If you have non-Hodgkins Lymphoma, here is one for your cancer:
2019 ASCO Annual Meeting

Jason Westin, MD, of The University of Texas MD Anderson Cancer Center, discusses findings of the Smart Start study on the chemotherapy-free combination of rituximab, lenalidomide, and ibrutinib in newly diagnosed diffuse large B-cell lymphoma (Abstract 7508).
ASCO is a great source of the latest news in cancer treatment.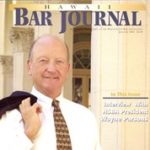 A resident of Honolulu, Hawaii, Wayne Parsons is an Injury Attorney that has dedicate his life to improving the delivery of justice to the people of his community and throughout the United States. He is driven to make sure that the wrongful, careless or negligent behavior that caused his clients' injury or loss does not happen to others.