When an employee on a ship is injured, the law that covers the injury is in the category of laws called admiralty or maritime law. A specific law passed by Congress that can be used for an injury claim is The Jones Act, 46 U.S.C.App. § 688 (1958) which allows a crew member to allege that he or she sustained injuries due to the boat owner's negligence. Under the Jones Act
[a]ny seaman who shall suffer personal injury in the course of his employment may, at his election, maintain an action for damages at law, … and in such action all statutes of the United States modifying or extending the common-law right or remedy in cases of personal injury to railway employees shall apply.
It is interesting to look also at The Federal Employers' Liability Act (FELA), 45 U.S.C. § 51. The Jones Act and FELA have similar requirements. FELA applies to workers in Fede4ral jobs on land. The Jones Act applies to crew members on all ships and boats.
In passing the Jones Act, Congress extended the same special statutory protection to seamen as it had extended to railway workers because of a high rate of injury to workers in these fields. Cases that describe this history can be found easily on the Internet. Here are some leading cases: Lewy v. Southern Pacific Transportation Company, 799 F.2d 1281, 1288 (9th Cir.1986); Buell v. Atchison Topeka and Santa Fe Railway Company, 771 F.2d 1320, 1321-1322 (9th Cir.1985); Toscano v. Burlington Northern, 678 F.Supp. 1477 (D.Mont.1987).
Under FELA, and The Jones Act, an employer has a statutory duty to provide a safe place to work, including an emotionally safe place to work.
What Does A Seaman Need to Prove In A Jones Act Case?
A difference between an injury on land under standard legal tort doctrines and claims brought under FELA or the Jones Act is that the legal causation burden under FELA and the Jones Act is minimal. If the employer's negligent act or omission played any part, however slight, in bringing about the injury, the employer is liable. The most famous cases that describes this standard are Rogers v. Missouri Pacific R. Co., 352 U.S. 500, 506, 77 S.Ct. 443, 448, 1 L.Ed.2d 493 (1957); Taylor, 787 F.2d at 1313. The "slight negligence" necessary to support an action under FELA is defined as a failure to exercise great care and that burden of proof is much less than the burden required to sustain recovery in ordinary negligence actions. You can read more detail by looking at the case: Boeing Co. v. Shipman, 411 F.2d 365 (5th Cir.1969).
In Rogers the Court held that:
[u]nder this statute [FELA] the test of a jury case is simply whether the proofs justify with reason the conclusion that employer negligence played any part, even the slightest, in producing the injury or death for which damages are sought. It does not matter that, from the evidence, the jury may also with reason, on grounds of probability, attribute the result to other causes, including the employee's contributory negligence. 352 U.S. at 506, 77 S.Ct. at 448.

"Since liability under the Jones Act is the same as that established by Congress under the FELA, the Supreme Court has adopted the Rogers statement of causation with respect to Jones Act proceedings."
What Is General Maritime Law And Is It Different Than The Jones Act Claim?
General maritime law is another way for a crew member on a boat to bring an injury claim. Unlike the Jones Act claim, proximate cause must be proved in a General Maritime case, so the standard is higher for the injured person, than it is in Jones Act cases. The case of Litherland v. Petrolane Offshore Const. Services, 546 F.2d 129, 132 (5th Cir.1977) sets that standard:
"Under the Rogers standard, plaintiff need not show that the conditions aboard …, or the stresses and strains placed upon [plaintiff] were the sole cause or main cause or even a significant cause of his injuries; they need only have been a contributing cause." Curry, 327 F.Supp. at 164.
FELA "encompasses all reasonably foreseeable injuries which result from a railroad's failure to exercise due care with respect to its employees." Buell, 771 F.2d at 1322. However, the foreseeability requirement has been minimized. It is "not necessary that respondent be in a position to foresee the exact chain of circumstances which actually led to the accident." Ferguson, 352 U.S. at 523, 77 S.Ct. at 458. It is only necessary that the injuries be true and significant. Hagerty v. L & L Marine Services, Inc., 788 F.2d 315 (5th Cir.1986)rehearing en banc denied797 F.2d 256 (1986).
This same standard applies to the Jones Act.
Other Laws that may apply are The Death On The High Seas Act and The Longshoeman's And Harbor Workers Act. These complex laws have evolved over a period of 200 years.
Death on the High Seas (DOHSA)
"Whenever the death of a person shall be caused by wrongful act, neglect, or default occurring on the high seas beyond a marine league from the shore of any State, or the District of Columbia, or the Territories or dependencies of the United States, the personal representative of the decedent, may maintain a suit for damages in the district courts of the United States, in admiralty, for the exclusive benefit of the decedent's wife, husband, parent, child or dependent relative against the vessel, person, or corporation which would have been liable if death had not ensued."
Understanding which law applies to a particular injury is not a simple matter and requires careful consideration of the facts.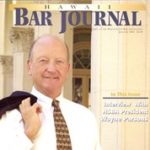 A resident of Honolulu, Hawaii, Wayne Parsons is an Injury Attorney that has dedicate his life to improving the delivery of justice to the people of his community and throughout the United States. He is driven to make sure that the wrongful, careless or negligent behavior that caused his clients' injury or loss does not happen to others.