The Washington Post (8/21, Whoriskey) reports, "The U.S. Equal Employment Opportunity Commission filed a lawsuit against AT&T on Thursday, alleging that the telecommunications giant is discriminating against older workers. The centerpiece of the suit is the charge that by company policy, AT&T will not rehire workers who have previously retired from the company." EEOC attorney Louis Graziano said, "To deny you the opportunity to work again doesn't make any sense, particularly if you have experience. … The government doesn't prohibit you from having a policy that makes no sense, but if it adversely affects workers over 40, then it violates the law."
The New York Times /AP (8/21, B7) reports that AT&T's policy "led to a disproportionate number of older workers not having the same opportunity to apply for re-employment with the company as younger workers, which amounts to age discrimination," according to EEOC. The suit "claims that AT&T's policy excluded a class of workers from being re-employed because of their age, regardless of their qualifications." While AT&T spokesman Michael Coe refused to comment on the suit, he said, "I can tell you AT&T makes diversity and inclusion a top priority, and has received national recognition for its programs and performance."
CNNMoney.com (8/21) notes that the "complaint is seeking a permanent injunction preventing AT&T from discriminating against employees and job applicants 40 years old and older, the adoption of policies to prevent such discrimination, the payment of back wages, and the rehiring of employees who were discriminated against." The Wall Street Journal (8/21, B4, Bray, Cheng) also covered the story.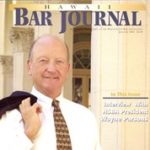 A resident of Honolulu, Hawaii, Wayne Parsons is an Injury Attorney that has dedicate his life to improving the delivery of justice to the people of his community and throughout the United States. He is driven to make sure that the wrongful, careless or negligent behavior that caused his clients' injury or loss does not happen to others.