I hear that John Stossel is a Libertarian and to my mind that means he should be in favor of liberty and justice for all. As I often remind myself and my friends, justice is the most important goal of man on earth and so the subject of justice is a serious one, not to be treated with disrespect by anyone. Over the years John Stossel has manipulated the facts and slanted the true story to do his bidding for the huge corporations and insurance companies and financial interests that want to shut the doors to the courthouses across the country and stop the "little people" from seeking justice when they wronged.
Thanks to Public Citizen and The Center for Justice and Democracy, two organizations that represent the interests of individuals, we have the rue story of what is behind the frivolous lawsuit claims of hired guns like John Stossel:
"For the last 15 years, insurance companies, manufacturers of dangerous products and chemicals, the tobacco industry and other major industries have been engaged in a nationwide assault on the civil justice system. In nearly every state and in Congress, corporations and their insurers have waged a relentless campaign to change the laws that give sick and injured consumers the ability to hold their offenders responsible for the injuries they cause. . .

Since 1991, 'tort reform' advocates have set up dozens of tax-exempt groups . . . to plant their 'lawsuit abuse' message in the media and the public consciousness, and to influence legislation, the judiciary and jurors. These groups claim to speak for average Americans and represent themselves as grassroots citizens groups determined to protect consumer interests. But their tax filings and funding sources indicate that they actually represent major corporations and industries seeking to escape liability for the harm they cause consumers — whether it be from defective products, medical malpractice, securities scams, insurance fraud, employment discrimination or environmental pollution. These organizations hide their pro-business agenda behind consumer-friendly names like Citizens Against Lawsuit Abuse, Stop Lawsuit Abuse, Lawsuit Abuse Watch, and People for a FAIR Legal System."

"The CALA [Citizens Against Lawsuit Abuse] Files –

Center for Justice and Democracy and Public Citizen

The Secret Campaign by Big Tobacco and Other Major Industries to Take Away your Rights," a report by the
John Stossel is a spokesperson for a well organized and massively powerful corporate conspiracy to eliminate trial lawyers and shut the courthouse doors to average Americans. He makes a lot of money doing this and you can bet they appreciate his service. They are trying to steal justice from the American people, and the major media is too busy watching the Casey Anthony trial and worrying about ratings to investigate and tell the true story.
John Stossel went on TV last nigh (June 16, 2011) and spread more false and slanted propaganda about our justice system. He talks about frivolous lawsuits and fraudulent claims and blames lawyers who represent people who have been hurt and have to file a lawsuit because the insurance company won't pay (sound familiar?). The truth is that John Stossel is a hired gun for the big corporations and if anything is frivolous or fraudulent it is their 30 year campaign _ spearheaded by their creation The U.S. Chamber of Commerce _ to attack trial lawyers and to destroy the tort system.
Don't take my word for it. The Commonweal Report is the real story-behind-the-story of John Stossel's attacks over the years on trial lawyers and lawsuits:
The Attack on Trial Lawyers and Tort Law
A Commonweal Institute Report
David C. Johnson, Fellow
October 1, 2003
I would like Stossel to comment on what is not true and not accurate in this chilling expose on what the organized fraud that is being perpetuated by the powerful corporations that seem to control everything these days. In fact I would like to see any journalists from any of the major media take on this subject with some real journalism. Unfortunately the major media whether it is Anderson Cooper or Chris Matthews or Katie Couric are either not interested or not allowed to take on this subject because it is too powerful. Remember our ancestors fought the revolt against England to get "justice" and it is our court system that makes America unique in the world, not some corporate executives in $2,000 a night hotel rooms.
A lot of us are fed up with the propaganda that guys like Stossel spread about lawyers and lawsuits. I have listed a few articles below that you should read to get the facts that Stossel doesn't want you to know:
What a Surprise. John Stossel is Attacking Lawyers Again by Mike Bryant
No, John Stossel, You are out of Control by Jon Lewis
Memo to John Stossel: What is a the bigger problem? Frivolous lawsuits or frivolous journalists? by Wayne Parsons
John Stossel Tort Reform Propaganda Seeks To Brainwash & Attack Our Constitutional Right to a Jury & Civil Justice by Mark Zamora
Warning: Stossel May Be Dangerous to Your Family's Health & Safety by Mark Bello
Is John Stossel A Closet Socialist? by Brett Emison
John Stossel: Dishonest and Hypocritical in Criticizing Personal Injury Lawyers and Tort Law by Rick Shapiro
John Stossel Is A Big Fat Liar by Pete Mackey
And although the public generally has no personal knowledge about lawsuits, because few people are ever a party to a lawsuit, either as plaintiff or defendant, you all know about the way insurance companies deny your claims and how the insurance industry uses loopholes and fine print in a fashion that is all too similar to Bernie Madoff. Doug Landau turns the spotlight on the true fraudulent and frivolous actions of insurance companies in personal injury lawsuits:
Frivolous lawsuit defenses harm the courts and injured victims by Doug Landau
Now can we please hear from Stossel or the U.S. Chamber of Commerce or the American Tort Reform Association or any of the proponents of tort reform to debate the facts in a public forum?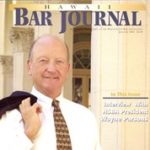 A resident of Honolulu, Hawaii, Wayne Parsons is an Injury Attorney that has dedicate his life to improving the delivery of justice to the people of his community and throughout the United States. He is driven to make sure that the wrongful, careless or negligent behavior that caused his clients' injury or loss does not happen to others.