Coverage of the Supreme Court nomination of Judge Sonia Sotomayor follows several tracks. While much attention is given to former House Speaker Newt Gingrich's online assertion that Sotomayor is a "racist" — a reference to a speech she made in 2001 — Republicans in the Senate are taking a more muted approach, all but conceding that Sotomayor will be confirmed, and debating among themselves how hard to press her during confirmation hearings. Senate Judiciary Committee ranking Republican Jeff Sessions said he does not "sense a filibuster in the works." Other key threads in Sotomayor coverage include speculation on the possible political motives behind President Obama's selection of a Latina nominee, and concerns among liberals over what The Politico calls Sotomayor's "skimpy paper trail on crucial issues like abortion, gay marriage and the death penalty."
None of the three broadcast networks led with the nomination Wednesday evening, but related stories received just over 11 minutes of cumulative coverage. The CBS Evening News (5/27, story 3, 3:40, Couric) reported Sotomayor "spent today working the phones," speaking with "Senate leaders from both parties. When confirmation hearings begin this summer, Republicans are promising a close examination of her judicial record" while trying "not to alienate Hispanic voters." CBS (Hughes) added, "A standing ovation for President Obama, who made his first trip to the swing state of Nevada after nominating Judge Sotomayor. All across America, Hispanics are reacting to Sotomayor's nomination." After showing clips of very positive reactions, Hughes continued, "While some Republicans are being measured in responding to the nomination, others are already voicing loud objections." Rush Limbaugh: "She's not the brain that they're portraying her to be. She's not a constitutional jurist. She is an affirmative action case extraordinaire." Hughes: "Criticism is also rising over her remarks in a speech made in 2001: 'I would hope that a wise Latina woman with the richness of her experiences would more often than not reach a better conclusion than a white male who hasn't lived that life.' Newt Gingrich tweeted today: 'Imagine a judicial nominee said 'my experience as a white man makes me better than a Latina woman … Latina woman racist should withdraw.'" Many other sources covered the story including, NBC Nightly News (5/27, story 3, 2:50, B. Williams), the AP (5/27, Davis) the New York Times (5/28, A1, Baker, Nagourney) and the Wall Street Journal (5/28, A3, Weisman, Bendavid).
Senate Republicans mull strategy. The Los Angeles Times (5/28, Hook) reports Republicans, "acknowledging that it will be difficult to defeat the nomination," are "looking for other strategies to gain political yardage in the debate over President Obama's pick. They are spotlighting her decisions on wedge issues such as gun rights that could put pressure on Democrats from conservative states. And they are preparing for confirmation hearings that they hope will spotlight major differences between the political parties' legal philosophies." The Politico (5/28, Allen) says Sessions "sounded conciliatory" Wednesday, and "top Senate Republican strategists" said that, "barring unknown facts about Judge Sonia Sotomayor, the GOP plans no scorched-earth opposition to her confirmation." The New York Times (5/28, A18, Nagourney) reports the nomination "has put the Republican Party in a bind, forcing it to weigh the cost of aggressively opposing the first Hispanic named to the court against its struggle to appeal to Hispanic voters."
Gingrich calls Sotomayor a "racist." The Washington Times (5/28, Bellantoni) reports Gingrich on Wednesday called Sotomayor "a 'racist' for remarks she made in 2001, joining an emerging conservative line of attack and enflaming both sides of the battle as interest groups fundraise over her nomination." In his "Twitter feed to more than 344,400 followers," Gingrich "called on Judge Sotomayor to withdraw from consideration to the high court. He said her remarks citing ethnic background as a reason for making better legal decisions, if spoken by a white male, would be disqualifying." The New York Daily News (5/28, 615K) says "the Holy Trinity of the GOP — Newt Gingrich, Ann Coulter and Rush Limbaugh — have taken to calling the Supreme Court justice nominee Sonia Sotomayor a 'racist,' with Gingrich even going so far as to ask her to withdraw." The Politico (5/28, Barr) also reports on Gingrich's statement.
Sotomayor seen as "hard to pin down" on business issues. The AP (5/27, Rugaber) reported, "Sonia Sotomayor, President Barack Obama's choice for the Supreme Court, has compiled a balanced record on business issues that is hard to pin down, legal experts said." According to Evan Tager, a partner at Mayer Brown, "she has not been consistently … on one side of the spectrum or the other." However, "other analysts note… Sotomayor has supported limiting damages in lawsuits against companies and will dismiss discrimination claims if she finds they aren't supported by the law."
Dow Jones Newswires (5/28, Boles) reports, "A 2001 ruling by U.S. Appeals Court Judge Sonia Sotomayor kept alive a class action lawsuit against Visa Inc. (V) and MasterCard Inc. (MA), which led to a $3 billion settlement, one of the largest corporate payouts at the time." According to "legal experts…decisions she has written or on which she has been with the majority are varied and offer an insight into how she may rule on business issues should she win confirmation to the high court." The majority opinion in the Visa and MasterCard case, which was written by Sotomayor is believed to be "a plaintiff-friendly interpretation of the class action standards." However, "in another instance, Sotomayor joined a majority opinion in a class action case that benefited corporations."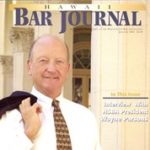 A resident of Honolulu, Hawaii, Wayne Parson is an Injury Attorney that has dedicate his life to improving the delivery of justice to the people of his community and throughout the United States. He is driven to make sure that the wrongful, careless or negligent behavior that caused his clients' injury or loss does not happen to others.