The Financial Times (2/5, Chung, et al.) reports that former money manager Harry "Markopolos, who tried for nine years to expose Mr. Madoff, told a congressional hearing yesterday that staff incompetence on the part of the US Securities and Exchange Commission was partly to blame for failing to bring a case against Mr Madoff earlier." He said, "I gift-wrapped and delivered the largest Ponzi scheme in history to them" adding that "most officials 'did not understand . . . the 29 red flags that I handed them.'" He added, "The SEC securities lawyers, if only through their investigative ineptitude and financial illiteracy, colluded to maintain large frauds such as the one to which Madoff later confessed."
The AP (2/5, Gordon) reports, "House lawmakers today accused the Securities and Exchange Commission of impeding their probe into the agency's failure to uncover the alleged $50 billion Bernard Madoff fraud" and "the clash between lawmakers and high-ranking SEC officials at a House Financial Services subcommittee hearing came after the man who waged a decade-long campaign to alert the regulators to problems in Madoff's operations denounced the agency for its inaction." Whistleblower Harry Markopolos said, "'The SEC is…captive to the industry it regulates and is afraid' to bring big cases against prominent individuals." The Los Angeles Times (2/5, James) also covers the story.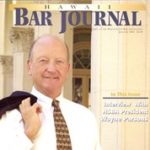 A resident of Honolulu, Hawaii, Wayne Parson is an Injury Attorney that has dedicate his life to improving the delivery of justice to the people of his community and throughout the United States. He is driven to make sure that the wrongful, careless or negligent behavior that caused his clients' injury or loss does not happen to others.