The Center for Justice & Democracy is an organization that tells the truth. CJ&D's leader Joanne Doroshow gets it! She digs beneath the spin and the political deals to expose the attempt by corporate CEO's and politicians to shut the court house doors in America to people like you.
Here are some articles that show what great work Joanne doroshow and CJ&D are doing for all Americans. Our office is a proud supporter of CJ&D. here are Joanne's own words:
"Dear CJ&D Friend,
Each day, the Center for Justice & Democracy scours the news, prepares and sends to interested parties a daily news digest of relevant articles, news releases and fact sheets dealing with civil justice issues around the country. See below for today's digest.
As a special benefit for our members and donors, we are happy to add you to this listserve so that you can receive CJ&D's Daily News Digest.
If you currently are a member or supporter of CJ&D and would like to be added, please reply to me and we will be more than happy to add you to the listserve. You will begin receiving these daily news digests shortly thereafter. You can also cancel at any time. And thank you for your support!"
Joanne Doroshow
Executive Director
Center for Justice & Democracy
CJ&D Daily News Digest, June 14, 2006
KFC Sued Over Use of Trans Fats
LA Times
http://www.latimes.com/business/la-fi-kfc14jun14,1,5346267.story?coll=la-headlines-business
City Cries Foul as Albany Panel Defeats Measure on Lawsuits
NY Times
http://www.nytimes.com/2006/06/14/nyregion/14comp.html?_r=1&oref=slogin
Lawsuits vs. city double
Newsday
http://www.newsday.com/news/printedition/newyork/ny-nysuit144780524jun14,0,7654116.story
Eyes wide open in the courtroom
Belleville News-Democrat
http://www.belleville.com/mld/belleville/news/editorial/14805787.htm
U.S. Chamber Institute for Legal Reform Cries Foul on Fast-Food Lawsuit Tactic Exemplifies Problems with Legal System
Press Release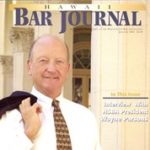 A resident of Honolulu, Hawaii, Wayne Parson is an Injury Attorney that has dedicate his life to improving the delivery of justice to the people of his community and throughout the United States. He is driven to make sure that the wrongful, careless or negligent behavior that caused his clients' injury or loss does not happen to others.