Two comments have been posted on my recent post about Sylvia Minor.
HELP! Sylvia Is Facing Breast Cancer Alone Without Paul – A Story of Justice Gone Wrong!
Both were apparently women and they both had that nasty tone of the Karl Rove, Dick Chaney, U.S. Chamber of Commerce gang. I could picture the Fox attack dogs saying the words with those elite smirks on their face. The bullies don't care about people. Its always about politics and posturing. Or Rush Limbaugh.
Sylvia Minor has breast cancer and is alone and in a desperate situation. The comments were cold. To heck with Sylvia. Don't look at the humanity of the situation, just look at the "democrat versus republican" aspect. War and hate certainly are two words that have become identified with this group. I should not be shocked by the comments but I am. Shocked and saddened that this angry group has drifted so far from what our country is all about?
The issue is about me appealing to the community about a woman alone with breast cancer. Is that a crime in the eyes of these women? Their comments do come directly out of the Karl Rove playbook. Never apologize and attack every opponent. Is that our country has come to? I can tell you that if it was one of the wives of this group that alone and some republican husband in jail I would write the same article. I just went through two years of cancer with my wife and this is personal to me and it is about scoring some points against the other side. I will say that the two commenter's have opened my eyes to the viciousness and lack of soul of those who seem to "hate" everything.
I am very interested in how you see this issue. Paul Minor is no risk to the community. He could be allowed to be with his wife and then go back to serve his sentence. Is that a wrong idea? Reading the many accounts of the "crime" he committed many are asking why he is in jail in the first place. A lot of commenter's ask whether the prosecutions were proper. Would allowing Paul Minor to go to his wife's side in her crisis be okay with you?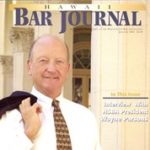 A resident of Honolulu, Hawaii, Wayne Parson is an Injury Attorney that has dedicate his life to improving the delivery of justice to the people of his community and throughout the United States. He is driven to make sure that the wrongful, careless or negligent behavior that caused his clients' injury or loss does not happen to others.