CNET is one of the best resources for technical information and I get regular email updates on current news. In a recent article by Elinor Mills at CNET she reports that fear about credit card data theft, identity theft and related financial misconduct is at unprecedented levels. The concern is heightened because of the desperation that is seen everywhere in the deepening financial crisis.
Elinor Mills of CNET
This should come as no surprise to anyone, but people in the U.S. are worried that as the economy worsens, the chances for identity fraud, particularly with regard to credit card data theft, will increase. Her report states that:
Nearly 75 percent of Americans believe that the global financial crisis increases their risk of identity and related fraud, according to the Unisys Security Index due to be released on Monday.

More than two-thirds surveyed said they are extremely or very concerned about other people obtaining and using their credit and debit card data, with 90 percent at least somewhat concerned.
Add to those statistics the fact that over 40 percent have similar fears about computer viruses and unsolicited e-mail.
Financial misconduct (financial security) is more of a concern now than national security as the financial crisis has come to the homes and offices across the country.
How real is the threat and is it increasing? A report from ZDNet – Financial data theft soared at Easter – reports an alarming increase:
An "unusual" combination of older malware and emerging threats was aimed at businesses, with attackers apparently hoping users would let their guard down leading up to the holiday weekend, Scansafe said.

"The rapid increase has been dramatic, but also highly unusual in longevity and the mix of malware included," John Edwards, ScanSafe's chief technology officer, told ZDNet UK.

"It's virtually guaranteed that many organizations have been breached and have had personal data stolen. Attackers are clearly looking for weak spots in a company's defenses and targeting the quiet holiday period," Edwards added.
Hawaii internet use is high given our remote location and so the threat is real in the Islands. Law enforcement in Hawaii is attempting to educate the public and develop prosecutions but that is difficult. An aggravating factor is the time difference. A lot of purchases can be made on the mainland while Hawaii residents sleep.
I am interested in how you protect yourself from this electronic form of financial misconduct.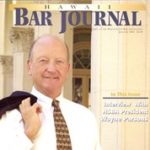 A resident of Honolulu, Hawaii, Wayne Parson is an Injury Attorney that has dedicate his life to improving the delivery of justice to the people of his community and throughout the United States. He is driven to make sure that the wrongful, careless or negligent behavior that caused his clients' injury or loss does not happen to others.