Trial Lawyers for Public Justice (TLPJ), a leading consumer advocacy attorneys organization, forces changes to an anti-consumer class action against Verizon; ustomers to be paid soon. the story below is a report from Trial lawyers for Public Justice. I am the state of hawaii coordinator for TLPJ. Consumers must protect the right to file class action lawsuits. Class actions are the only effective tool to correct for corporate abuse in many situations. But sometimes class actions can be used to benefite the corporations by unscrupulous attorneys on both sides and lax judicial oversight. Below is a story about how attorneys from TLPJ stopped such an abuse. In hawaii contact my firm if you suspect that you are subject to fraud on consumers.
Verizon customers across Maryland will now receive $16.8 million in compensation for illegal late fees charged by the company because Trial Lawyers for Public Justice and a team of consumer advocates challenged a proposed class action settlement that would have given them $156,000, and their lawyers $13 million. This relief will be paid within the next few weeks.
The Circuit Court for Prince George's County, Maryland, has now approved the revised settlement in Dotson v. Bell Atlantic-Maryland, a consumer class action charging that Bell Atlantic-Maryland (now Verizon) billed its customers excessive late fees. The Court's order ends a three-year battle in which objecting class members represented by TLPJ and a team of leading consumer attorneys defeated one proposed settlement and then forced significant improvements to a second proposed settlement, which is now final.
Under the first proposed settlement, Verizon would have paid only $156,000 to a small number of class members who submitted claim forms, while paying $13 million in attorney fees to class counsel. Under the second settlement now approved by the Court, Verizon is paying approximately $16.8 million to all of its current customers, while class counsel receive $6.1 million in attorney fees.
"This case is a textbook example of how class actions can hold companies accountable and win justice for consumers – if the courts and lawyers do their job," said TLPJ Staff Attorney Michael J. Quirk, lead counsel for two of the objecting class members. "Before our clients objected, the lawyers for the class would have gotten nearly all the money. Because of our objections, the class members are now being fairly compensated for their claims."
This case was originally filed in 1999 on behalf of approximately two million current and former local telephone service customers who alleged that Bell Atlantic was charging them unlawful late fees in excess of the Maryland Constitution's six percent usury cap. In December 2002, class counsel Beins, Goldberg & Gleiberman of Washington, D.C., and Verizon entered into their first proposed settlement. That settlement required each class member to fill out and mail in a claim form to receive, in most cases, $6 in relief. Verizon would have kept all available money not claimed by class members, while class counsel would have been paid $13 million regardless of how much money the class claimed.
In April 2003, TLPJ and three Maryland-area law firms filed objections to the proposed settlement on behalf of 12 class members. They argued that the settlement was unfair to the class because virtually all the money being paid would go to class counsel's attorney fees. They proved that only 18,000 customers out of a class of several million had claimed a total of $156,000 in relief. On November 13, 2003, the Circuit Court issued an opinion rejecting the settlement and upholding the objections to the excessive attorney fee award and the failure to disclose these fees in the notice to the class.
In June 2004, class counsel and Verizon entered into their second proposed settlement.
It increased the total amount Verizon had to pay to $26 million, but allowed class counsel to claim almost half of this fund ($12.5 million) for their attorney fees. The settling parties tried to justify this excessive fee award by saying that the settlement was really worth $52 million because the settlement prohibited Verizon from getting back the money it was paying out to customers by seeking regulatory approval to raise its rates to cover the payout.
In their objections to this second settlement, TLPJ and the objectors argued that (1) the parties' claim to have doubled the settlement's value through the "recoupment waiver" was a slight of hand that created the phony appearance of extra value; and (2) the settlement should be rejected because its allowance of a 50 percent attorney fee award was illegal and unfair to the class. The Circuit Court approved this settlement in November 2004. When the objectors appealed, the Maryland Court of Appeals granted review, questioned the inflated measure of the settlement's value, and sent the case back to the Circuit Court. The final settlement agreement followed.
"After three years of fighting for the interests of Maryland consumers and against the best efforts of the class's own lawyers to enrich themselves to the detriment of their clients, we achieved a result we are proud of. Essentially, both Verizon and the class's lawyers tried to throw a fastball by the court," said Kieron F. Quinn of Quinn, Gordon & Wolf, Chtd. in Baltimore, lead counsel for ten of the objectors. "Class actions exist so aggrieved citizens can hold big institutions accountable for serious wrongdoing. We made sure that happened in this case."
In addition to Quirk and Quinn, the objectors in this case were represented by TLPJ Staff Attorney F. Paul Bland, Jr.; Richard Gordon and Martin Wolf of Quinn, Gordon & Wolf, Chtd.; Philip Foard of Foard, Gisriel, O'Brien & Ward in Towson, Maryland; and Philip Friedman of the Law Offices of Philip Friedman in Washington, D.C.
Copies of TLPJ's objections, the court's decision rejecting the first proposed settlement, and the court's decision approving the final settlement in Dotson v. Bell Atlantic-Maryland, are available online at www.tlpj.org. TLPJ's work in this case is part of its Class Action Preservation Project.
###
Trial Lawyers for Public Justice is the only national public interest law firm dedicated to using trial lawyers' skills and resources to advance the public good. Founded in 1982, TLPJ utilizes a nationwide network of more than 3,500 outstanding trial lawyers to pursue precedent-setting and socially significant litigation. It has a wide-ranging litigation docket in the areas of consumer rights, environmental protection, toxic torts, worker safety, civil rights and liberties, and access to the courts. TLPJ is the principal project of The TLPJ Foundation, a not-for-profit membership organization. It has offices in Washington, DC, and Oakland, CA. TLPJ's State Coordinator in Maryland is Gerald I. Holtz of Rockville, MD, tel. 301-610-0777.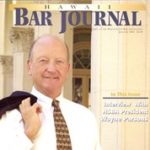 A resident of Honolulu, Hawaii, Wayne Parson is an Injury Attorney that has dedicate his life to improving the delivery of justice to the people of his community and throughout the United States. He is driven to make sure that the wrongful, careless or negligent behavior that caused his clients' injury or loss does not happen to others.