Bloomberg News (7/22, Van Voris, Rosenkrantz) reported, "A congressional staff investigation into the biggest U.S. consumer debt-collection arbitrator found 'deeply disturbing' abuses, U.S. Representative Dennis Kucinich said" yesterday at a hearing before a House subcommittee he chairs. "A report on the investigation, released yesterday, claims that the National Arbitration Forum, a Minnesota company that handled most consumer debt-collection arbitrations in the U.S., misled consumers and hid ties to debt-collection firms." Said Kucinich, "The debt collection industry and the alternative legal system that has been created around it can no longer be ignored by the federal government."
The Minneapolis Star Tribune (7/22) reported, "Minnesota Attorney General Lori Swanson backed federal legislation Wednesday that would protect consumers from 'fine print' arbitration contracts that forfeit their legal rights against creditors. 'Millions of Americans are giving away that right without even knowing it,' Swanson told a panel of the House Oversight and Government Reform Committee." Also appearing before the committee was Mike Kelly, CEO of Forthright, "which provides administrative services for the" NAF. Kelly "defended the company's work as a simple and cost-effective alternative to the courts, saying that without access to arbitration, consumers would be the losers."
I have recently written on the NAF debacle:
Justice For Sale: American Arbitration Association and National Arbitration Forum Rig The System
And consumer advocate Cecelia Prewett has also written on the threat of forced arbitration to consumers:
Groups Encouraged That Consumer Financial Protection Agency Addresses Forced Arbitration – by Cecelia Prewett, American Association of Justice
The AP (7/22, Choi) reported that Kenneth Clayton of the American Bankers Association testified that "arbitration is a valuable way for consumers and businesses to resolve disputes in a very low cost and fair manner. Take it away and consumers will suffer." But "a study by Public Citizen found that credit card companies track arbitrators' rulings and do not enlist the arbitrators who rule against them."
Jones: "arbitration revolution" possible. In a blog at the Wall Street Journal (7/22), Ashby Jones wrote, "It's too soon to say, in all likelihood, but we could be in the early stages of an arbitration revolution."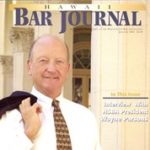 A resident of Honolulu, Hawaii, Wayne Parson is an Injury Attorney that has dedicate his life to improving the delivery of justice to the people of his community and throughout the United States. He is driven to make sure that the wrongful, careless or negligent behavior that caused his clients' injury or loss does not happen to others.