The arrived in the mail. The old fashioned mail not e-mail. It asked a Hilo man for bank account information and said they were looking for heirs in connection with a transfer of $15 million.
The KGMB 9 report is quoted as saying:
The letter asks the recipient to provide an account number. It also instructs the recipient to correspond by fax and to buy a fax machine if he does not have one.

These letters are different variations of the same scam, all designed to attempt to get the recipient to provide a bank account number. Persons who provide account numbers will find the accounts emptied out by the scammer.
It is only common sense not to respond to these ridiculous inquiries but people do respond. No one should ever provide personal or financial information of any kind to these scams. Remember that if the scam originates outside the U.S. there is little chance of recovering any money you lose. The bottom line is that these scams are theft by deception and violate both federal and hawaii law.
Because a number of scams originate in foreign countries, recovery of stolen money is unlikely, police said.
Here are some other scams:
THE PAYPAL SCAM
You receive an email telling you to contact Paypal immediately because your credit card has been compromised and your account is on hold. You are asked to fill out a form the form which they have attached and return it to them. Don't open the attachment. You will note that the email is NOT individually addressed and there is no case number. If you get one of these DO NOT RESPOND! Instead forward the e-mail to: spoof@Paypal.com. Paypal (the real one) will thank you in an e-mail that is individually addressed.
FREE SAMPLE OF ACAI & COLON CLEANSERS
An e-mail arrives offering free Acai products or colon cleansers. All you pay for is shipping. After you accept the offer and give them your credit card they ship the free products but also additional orders at high prices that you don't want and didn't order. Well, in fact it says that you are ordering the added products. Read the small print! Returns may not be credited to your account.
According to We Find Them here are some things you can do:
THINGS IN COMMON & WHAT TO DO


The message is not individually addressed to you.
If your English is decent, you can tell the e-mail is not from someone who uses English as their first language. Another version of the Nigerian letter!
They request that you give them your name, account number, password, etc. on the same e-mail or an attachment that they sent you. NEVER, NEVER respond directly! If you are not sure whether it is fraudulent or not, call or e-mail directly to the place it "supposedly" came from.
Look at the return e-mail address.
Report and/or send a copy to the agencies below. Then DELETE!
They offer other services also. You should also report suspected scams to:
Department of Commerce & Consumer Affairs, State of Hawaii – www.hawaii.gov/dcca
Federal Trade Commission – www.spam@uce.gov
Internet Crime Complaint Center – http://www.ic3.gov/complaint/default.aspx
Use common sense and report suspicious activities. Have you been the victim of a scam? Let us know about what happened to you – it may protect others from being victimized.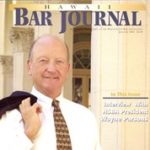 A resident of Honolulu, Hawaii, Wayne Parson is an Injury Attorney that has dedicate his life to improving the delivery of justice to the people of his community and throughout the United States. He is driven to make sure that the wrongful, careless or negligent behavior that caused his clients' injury or loss does not happen to others.