The idea that music and dance and art take us up into the better parts of ourselves and our lives has been often expressed. My humble effort this Friday is more for me than for anyone else. I need to remind myself about what life is all about. Today I did that with another Susan Boyle moment but this time the messenger was a young Asian violinist and a story about what matters put to music. What I say here does not matter. But, at least in my heart and mind, the message of this video does matter:
http://www.youtube.com/watch?v=Um9KsrH377A&feature=player_embedded
What do you think?
Two weeks ago I watched Gioria Schmidt play the violin with the Honolulu Symphony. It was a Sunday matinée and the orchestra was superb. They had to be to stay in the same room with Gioria who made the violin sing with a voice for the ages in this laudable performance:
Violinist Giora Schmidt tore through Tchaikovsky's famously difficult Violin Concerto Saturday evening, apparently relishing even the thorniest of passage


"Once considered unplayable," Giora said before the concert, "the Tchaikovsky has become almost 'run-of-the-mill' – there are 12-year-olds now who can play this piece … If you cannot play the Tchaikovsky, you're not a fully formed solo artist. It really tests every element."

"There's nothing that has to be altered [to make it playable], but there are sections you have to, what shall I say, worry about."

(There will be a repeat performance today; see information at the end of the review.)

Schmidt had nothing to worry about. He played with passion and precision, pausing between movements to pull broken horsehairs from his bow, a quiet testament to the music's demands.

When asked about his violin, Schmidt said: "I knew you were going to ask that. Look, we all know the great fiddles are old, Italian, and expensive. Most of us have to borrow them. It's a Giovanni Baptista Guadagnini . . . built in Milan, 1753."
When I saw the Pantene commercial I was struck by the power of music to captivate, bring rapture and to help the performer to understand life.
That's all for today. try some music this weekend as a remedy for what ails you or as a source of pleasure. Bach's Concerto for Two Violins is a good starting point, but whatever you enjoy is wonderful.
http://www.youtube.com/watch?v=4JG8KkWhsiY
Yes, I am going to work on behalf of our great Honolulu Symphony Orchestra to save the heart of clasical music in Hawaii. They are teetering in financial trouble and they need community support – and MONEY! You can donate easily online. Click on this link – Donate – and make a statement for music in our lives.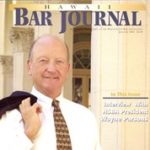 A resident of Honolulu, Hawaii, Wayne Parson is an Injury Attorney that has dedicate his life to improving the delivery of justice to the people of his community and throughout the United States. He is driven to make sure that the wrongful, careless or negligent behavior that caused his clients' injury or loss does not happen to others.