I am using the term "conservative" rather than Republican to describe the current confirmation hearing squabbles over Sonia Sotomayor. Many Republicans support her because of her obvious qualifications. It is a small group of the "no" part of the conservative movement that opposes her. This group was the part of the conservative movement that has driven the Republican party to the brink of extinction. This group does not care about the facts and makes fun of those who do. They are in love with Joe The Plumber, Sarah Palin and Rush Limbaugh (I'd include Hannity and the FOX group but they are just paid lackeys – Pravda brought to America, and an embarrassment to journalism).
They are blasting away at out of court statements by Sotomayor but ignore the religious comments made by Roberts before he was appointed. They scream about activist justices and ignore the fact that from Rehnquist to Scalia to Alito to Thomas it is the conservatives on the Court who strike down laws and are truly the "activists" when it comes to judicial philosophy. A college professor once said in one of my classes that the only true perversion was the double standard. He was talking about men and women and sex, but his observation often comes to mind when I see the conservative radicals today screaming at the top of their lungs about whatever suits their pocketbooks or religious philosophy. They don't think Americans are smart enough to figure them out. We do need to boost up public education and once again have the finest schools in the world, but I don't think Americans are as dumb as this vocal conservative group does.
To positive media coverage, including the lead stories on all three network newscasts, Judge Sonia Sotomayor yesterday addressed the Senate Judiciary Committee. ABC World News (7/13, lead story, 3:00, Crawford-Greenburg) reported that Sotomayor "took the witness chair to answer critics who said she will let her feelings and empathy trump her impartiality." Sotomayor was shown saying, "Many Senators have asked me about my judicial philosophy: simple, fidelity to the law." The AP (7/14, Espo, Sherman) notes Sotomayor also said, "My personal and professional experiences help me to listen and understand, with the law always commanding the result in every case." Those comments, adds the AP, "amounted to a polite but firm rebuttal to Republicans who have criticized her 2001 comment that a 'wise Latina woman with the richness of her experiences' might make better rulings than a white male." Although Sotomayor "did not use the word 'empathy,'" says the Christian Science Monitor (7/14, Richey), "she stressed the importance of a judge being able to understand and acknowledge the concerns of the parties appearing before her."
Analysts overwhelmingly predict that Sotomayor will easily win confirmation. The CBS Evening News (7/13, lead story, 2:40, Couric), for example, reported, "The Judge raised her right hand today and swore to tell the truth. And even among Republicans, the betting is the next time…Sotomayor takes an oath, it will be as an Associate Justice of the US Supreme Court." The Wall Street Journal (7/14, Bravin, Bendavid) reports, "Barring a surprise…Sotomayor has a clear path to confirmation," and NBC Nightly News (7/13, lead story, 4:00, B. Williams) said that it was "shocking…to hear" even "a Republican Senator say…she will probably be confirmed." GOP Sen. Lindsey Graham was shown saying to Sotomayor, "Unless you have a complete meltdown, you're going to get confirmed. And I don't think you will." Graham's comment was included in numerous press accounts of the hearing, including those in the Washington Times (7/14, Lobianco), Financial Times (7/14, O'Connor), Roll Call (7/14, Stanton), The Hill (7/14, Bolton), Bloomberg News (7/14, Stohr, Stern) and McClatchy (7/14, Lightman, Taylor).
USA Today (7/14, Kiely, Biskupic) reports that "in her remarks, Sotomayor said, 'The progression of my life has been uniquely American,' that of a child of Puerto Rican parents who moved to New York during World War II." Democrats "emphasized Sotomayor's 17 years as a federal judge and the trails she blazed out of the Bronx public housing project where she grew up," but "Republicans focused on Sotomayor statements and rulings that they said suggested she'd be biased." CNN's The Situation Room (7/13, Blitzer) reported, "This round may be remembered most for questions about whether Sotomayor would make decisions as a 'wise Latina' or based on 'empathy.'"
The Los Angeles Times (7/14, A1, Savage, Oliphant) reports that "Democrats have the 60 votes necessary to thwart any Republican filibuster attempt. Leahy went as far as to pledge Sotomayor 'will be confirmed,' and he suggested that Republicans would oppose her at their political peril." Yet "some seemed ready to do just that," with "Sen. Jeff Sessions of Alabama, the top Republican on the committee, aggressively" laying out "his concerns about Sotomayor in a lengthy opening statement."
Ricci described as an "activist." The Wall Street Journal (7/14, Peterson) reports, "Opponents of…Sotomayor paint her as a judicial activist, yet a key protagonist in her opposition, New Haven firefighter Frank Ricci, has been an activist in his own right." The Journal adds that "as both a firefighter and independent consultant, Mr. Ricci often pushed back against his employers, challenging their decisions to fire him and pass over him for promotions and to lobby for broad firefighter safety concerns." In his "more than 14 years as a firefighter, Mr. Ricci filed two lawsuits against the city of New Haven and appealed his dismissal from South Fire District in Middletown, Conn. Mr. Ricci also initiated an injury rehabilitation task force after falling down an open shaft while on the job in 2001 and worked zealously to promote new equipment that would improve firefighting safety — at times as a paid consultant, at times as a volunteer."
The AP (7/13) reported, "Firefighter Frank Ricci, scheduled to testify about Sonia Sotomayor's ruling against his reverse discrimination lawsuit, was targeted for criticism Monday by powerful liberal groups who support her confirmation to the Supreme Court." People for the American Way, "a liberal group, said Monday that Ricci got his firefighting job in New Haven 'by claiming discrimination under the Americans With Disabilities Act.'" Ricci has dyslexia. "One conservative group, the Judicial Confirmation Network, is trying to rally conservatives behind Ricci."
Sotomayor touts her "fidelity to the law."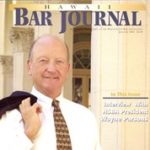 A resident of Honolulu, Hawaii, Wayne Parson is an Injury Attorney that has dedicate his life to improving the delivery of justice to the people of his community and throughout the United States. He is driven to make sure that the wrongful, careless or negligent behavior that caused his clients' injury or loss does not happen to others.