The AP (10/9, Kuhnhenn) reports President Obama "fought to keep his proposed banking overhaul on track Friday, casting the political struggle ahead as one between big financial interests" and citizens "victimized by complex or unscrupulous financial transactions." Obama said, "My concern are the millions of Americans who behaved responsibly and yet still found themselves in jeopardy because of the predatory practices of some in the financial industry." The President "confronted opponents of the plan, singling out the U.S. Chamber of Commerce, which is conducting a $2 million advertising effort to defeat the consumer plan." Obama said, "They're doing what they always do — descending on Congress and using every bit of influence they have to maintain a status quo that has maximized their profits at the expense of American consumers."
The Los Angeles Times (10/10, Puzzanghera) says Obama, speaking in the White House East Room, offered the "sharpest comments on the issue" in criticizing those who are "trying to block, or at least water down, the proposed Consumer Financial Protection Agency." The Washington Post (10/10, Dennis, Appelbaum) says "both the speech and the setting represented an escalation in the administration's push to expand the government's role." The New York Times (10/10, B5, Labaton) reports US Chamber spokesman Thomas Collamore responded, "The US Chamber is focused on job creation and economic growth. It is our constitutional right to petition our government on behalf of our members, the millions of businesses trying to make their way out of this recession." The Hill (10/9, Youngman) and AFP (10/9) also report on the President's remarks.
Columnist supports CFPA creation. In the "Talking Business" column at the New York Times (10/10), Joe Nocera wrote that the proposed Consumer Financial Protection Agency is needed because the current regulatory bodies inadequately address consumer concerns. "At the Federal Reserve, consumers will never come first," Nocera writes. "Alan Greenspan had the power to curb abusive subprime loans, but he just wasn't interested. Nor is it any different over at the Office of the Comptroller of the Currency, the nation's other big bank regulator. Not long ago, John C. Dugan, the comptroller, gave a speech in which he said…that the banks had not been responsible for the financial crisis. Regulators who take their talking points from the American Bankers Association don't exactly inspire confidence that they're looking out for consumers."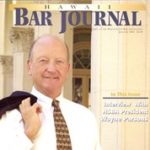 A resident of Honolulu, Hawaii, Wayne Parsons is an Injury Attorney that has dedicate his life to improving the delivery of justice to the people of his community and throughout the United States. He is driven to make sure that the wrongful, careless or negligent behavior that caused his clients' injury or loss does not happen to others.