Sylvia has breast cancer and she is all alone. She needs her husband. Her husband Paul is in prison. No Paul is not a perfect man and his separation from his wife at this time is mostly his fault. But in her struggle against a devastating cancer, she should be allowed the comfort of her husband at this time:
Paul Minor has been in prison for nearly two years, since the judge ruled in Sept. 2006 that he had violated the terms of his bond by drinking excessively and not abiding by terms of his house arrest. During that time, his wife Sylvia's breast cancer has spread to her brain and spine. According to family and friends, Mrs. Minor has now had all of her medications stopped except for pain management drugs, indicating that she is in the last stages of her illness.

Minor had started drinking as a result of the two prosecutions and the mounting costs of his legal defense, although he admits it's been a life-long battle. During the second trial, Minor's wife Sylvia developed breast cancer. The stress of the personal tragedy and the trials, say those close to Minor, caused him to drink. Wingate ruled that Minor's drinking was a violation of his bond.

Mrs. Minor's health has since deteriorated severely. Bill Minor, Paul Minor's father, who is a well-respected former correspondent for the New Orleans Times-Picayune and a political columnist for the Clarion-Ledger, says that his daughter-in-law has taken a bad turn.

Joseph Morris Doss, Bishop of the Episcopal Church and the Minor family's pastor and friend, confirmed that Mrs. Minor was no longer being administered medications other than those for pain management.

"She is not doing well," the bishop said last week. "The cancer has spread from her breasts, to her brain, to her spine, and a mass on the outside of her lung. She is no longer receiving medication for any of the cancer, only for pain and discomfort."www.atlargely.com/
Will you call everyone we know and raise the volume to a level where they will let Paul rush to his wife's side and hold her hand through this ordeal. Of course you need to know more. Who is Paul? What did he do? Why should he be allowed to rush to Sylvia's side? Good questions.
Before you click off, this is a story that everyone should read and everyone should shout about. Sylvia can't shout and she never was a shouter. Sylvia is sweet and vulnerable. If you care about injustice you have happened upon a place where you can wage in and make a difference.
But timing is everything with cancer. My beautiful wife Valerie died of cancer last year. I was with her all the way. I cannot imagine Sylvia going through her battle with this devastating disease all alone. Paul is a victim of a political prosecution. That also infuriates me. The article below from Harpers will make you angry.
We don't have to stand by and look at injustice and think that there is nothing we can do. This is America. When injustice happens we stand up to it. But do you care enough to do something? Will anyone even read this? I know that you care.
Scott Horton wrote about Paul Minor in "A Minor Injustice: Why Paul Minor?" in Harpers. The story reads like a novel and portrays a Bush, Karl Rove strategy in cahoots with the U.S. Chamber of Commerce to shut courthouse doors in Mississippi to regular citizens. Paul Minor? According to the Harper article here is what he did:
Ultimately, Minor was convicted of honest services mail fraud on September 7, 2007. He was charged with having helped Mississippi Supreme Court Justice Oliver E. Diaz, Jr., and his family secure loans to fuel Diaz's election campaign by providing personal guarantees. Minor also allowed Diaz to use an apartment he owned.22. Diaz states that he used the apartment only on weekends to visit his children, who were separated from him thanks to a recent divorce, that he shared it with another renter, and that Diaz made payments for its use. Diaz's statements on these points were corroborated by a series of other witnesses. However, none of this was noted in the charges brought by the prosecution. Indeed, the prosecutors also neglected to point out that the apartment was not solely Minor's–a major shareholder was another prominent lawyer who had made the same sorts of loans that Minor had, and who, unlike Minor, actually had cases in front of the judges in question. The other lawyer, however, makes strong campaign contributions to the Republicans.
Minor is serving an 11 year prison term along with a seven figure fine. The Harper's story raises questions about whether the Chamber of Commerce campaign was worse than what Paul Minor did.
Today, because he took steps to counter the Chamber's Mississippi electoral scheme, he is serving an 11-year sentence, has been fined $2.7 million, and was ordered to pay restitution in the amount of $1.5 million. Meanwhile, the Chamber of Commerce campaign, which in the view of Mississippi officials had been crafted, assembled and pursued in flagrant violation of Mississippi law, was not simply ignored, but vigorously defended as protected First Amendment "free speech." This was a very strange, and flamboyantly partisan, view of the interests of justice.
The charges against Minor were bizarre at best:
The actual charges filed were almost incomprehensible. Several public integrity prosecutors with whom I conferred told me they were unfamiliar of any similar case raising charges quite like these. They were called "strange," and "perhaps unique." Most public corruption cases revolve on a quid pro quo: a public official is asked to do something for some form of compensation or reward. But in these cases there is no quid pro quo, and none is ever alleged. As the New York Times's Adam Liptak observed:

The central charge against the two men is so convoluted that setting it out requires a diagram, if not a family tree: trying to influence a libel case against Mr. Minor's father, Mr. Minor guaranteed a loan to Justice Diaz's former wife.
After a thorough investigative effort, Scott Horton concluded that was a political victim of a Bush Administration attack on the courts in Mississippi.
Here's my take.33. A very detailed and meticulous review of the charges and legal issues in the Minor case has been presented in Roger Shuler's "Mississippi Churning" series, which can be visited here. I strongly recommend it for anyone interested in the case, and one good place to start is his primer on honest services mail fraud. But I'll give you the short version: honest service mail fraud is an effort to conjure a crime which does not exist. The "crime" here is purely political.
I started writing about Sylvia Minor. I'll end that way. Sylvia needs her husband. His incarceration serves no purpose other than to add tragedy to a political prosecution. let him share the burden of cancer with his wife Sylvia.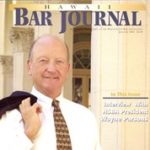 A resident of Honolulu, Hawaii, Wayne Parson is an Injury Attorney that has dedicate his life to improving the delivery of justice to the people of his community and throughout the United States. He is driven to make sure that the wrongful, careless or negligent behavior that caused his clients' injury or loss does not happen to others.