My favorite organizations are often so consumed with making ends meet that they can't "do" anything except survive. Nothing new. No new ideas. No new initiatives.
I wonder if we can organize around the common ideas that we have at Injury Board and do things that our "organizations" can't do.
Let me try something.
If you are a member of any of the following organizations I wonder if you would be interested in a few projects by like minded members. That's right. We would just pick a small project and do it. Just us, the internet and these keyboards and video displays that connect us,
I am not seeking the officers, executive committee members or the members of the Board of Directors. I am seeking out individual members and I think I prefer members who want to do something not members who want to be somebody. In a fight we need to have people who are passionate and smart and loyal. Is there anyone out there who wants to protect the justice system and take on the public debate about civil justice?
I care and I am going to do something about it.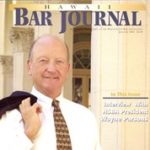 A resident of Honolulu, Hawaii, Wayne Parsons is an Injury Attorney that has dedicate his life to improving the delivery of justice to the people of his community and throughout the United States. He is driven to make sure that the wrongful, careless or negligent behavior that caused his clients' injury or loss does not happen to others.