The list grows longer every day. Financial misconduct has become the biggest subject this year and more people are being victimized in this tough economy. Protect yourself from scams, many of which have been around for years.
Identity Theft may only cost a few dollars because of credit card liability limitations ($50 to $500 generally) you may spend years clearing your name.
The problem is prolific. A report on identity theft by the U.S. Department of Justice is worth reading:
At Home.

Start by adopting a "need to know" approach to your personal data. Your credit card company may need to know your mother's maiden name, so that it can verify your identity when you call to inquire about your account. A person who calls you and says he's from your bank, however, doesn't need to know that information if it's already on file with your bank; the only purpose of such a call is to acquire that information for that person's personal benefit. Also, the more information that you have printed on your personal bank checks — such as your Social Security number or home telephone number — the more personal data you are routinely handing out to people who may not need that information.
If someone you don't know calls you on the telephone and offers you the chance to receive a "major" credit card, a prize, or other valuable item, but asks you for personal data — such as your Social Security number, credit card number or expiration date, or mother's maiden name — ask them to send you a written application form.
If they won't do it, tell them you're not interested and hang up.
If they will, review the application carefully when you receive it and make sure it's going to a company or financial institution that's well-known and reputable. The Better Business Bureau can give you information about businesses that have been the subject of complaints.

On Travel.

If you're traveling, have your mail held at your local post office, or ask someone you know well and trust ­ another family member, a friend, or a neighbor ­ to collect and hold your mail while you're away.
If you have to telephone someone while you're traveling, and need to pass on personal financial information to the person you're calling, don't do it at an open telephone booth where passersby can listen in on what you're saying; use a telephone booth where you can close the door, or wait until you're at a less public location to call.
The Federal Trade Commission also lists things you can do:
Skilled identity thieves may use a variety of methods to get hold of your information, including:

Dumpster Diving. They rummage through trash looking for bills or other paper with your personal information on it.
Skimming. They steal credit/debit card numbers by using a special storage device when processing your card.
Phishing. They pretend to be financial institutions or companies and send spam or pop-up messages to get you to reveal your personal information.
Changing Your Address. They divert your billing statements to another location by completing a change of address form.
Old-Fashioned Stealing. They steal wallets and purses; mail, including bank and credit card statements; pre-approved credit offers; and new checks or tax information. They steal personnel records, or bribe employees who have access.
Pretexting. They use false pretenses to obtain your personal information from financial institutions, telephone companies, and other sources. For more information about pretexting, click here.
The State of Hawaii has enacted new laws to protect the public from this form of finacial misconduct:
Last May, Governor Linda Lingle signed into law several bills which will provide increased protection to Hawaii residents from identity theft. Several of these bills will directly impact Hawaii businesses. Act 135, Notification of Security Breaches, will require businesses and government agencies that keep confidential personal information about consumers to notify those consumers if that information has been compromised by an unauthorized disclosure; Act 136, Destruction of Personal Information, will require businesses and government agencies to take reasonable measures to protect against unauthorized access to an individual's personal information when disposing of the records they keep; and Act 137, Social Security Number Protection, will restrict businesses and government agencies from disclosing consumers' Social Security numbers to the general public. All of these bills share a common goal: to protect individuals from exposure to identity theft by imposing limitations and restrictions on the use and disclosure of personal information.
Education is the key to protecting yourself and your family from fraud.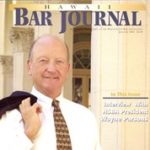 A resident of Honolulu, Hawaii, Wayne Parson is an Injury Attorney that has dedicate his life to improving the delivery of justice to the people of his community and throughout the United States. He is driven to make sure that the wrongful, careless or negligent behavior that caused his clients' injury or loss does not happen to others.