Politico (9/30, McGrane) reported, "Creation of a new consumer protection agency is still uncertain, as Democrats fight over whether federal laws should trump those written by individual states. A bloc of moderate Democrats on the House Financial Services Committee are negotiating with Chairman Barney Frank (D-Mass.) over this 'pre-emption' issue as the panel convenes a hearing Wednesday on a proposed consumer financial protection agency." The moderates, members of the centrist New Democrat Coalition, "want to maintain the status quo, in which financial institutions that elect to have a national charter are exempt from additional state consumer protection laws." The current draft of the bill would "require national financial institutions to comply with state-issued rules, even though their federal charters currently exempt them from state consumer protections. On top of that, state attorneys general would be able to bring civil suits against national financial firms for violating federal laws, including regulations issued by the consumer agency."
Dow Jones Newswires (10/1) reports that at Wednesday's hearing, American Bankers Association President Edward L. Yingling said, "We believe that without such preemption we will have a patchwork of state, and even local, laws that will confuse consumers, greatly increase the cost of financial services and serve as a strong disincentive to create new products of value to consumers." The Washington Post (10/1, Dennis) also covered the story.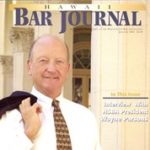 A resident of Honolulu, Hawaii, Wayne Parsons is an Injury Attorney that has dedicate his life to improving the delivery of justice to the people of his community and throughout the United States. He is driven to make sure that the wrongful, careless or negligent behavior that caused his clients' injury or loss does not happen to others.