The AP (7/27) reported, "A federal judge was asked Monday to preserve thousands of juvenile court records in a Pennsylvania judicial scandal — evidence of wrongdoing that the state Supreme Court has declared should be destroyed. The high court's plan to delete more than 6,000 records will prevent youths in northeastern Pennsylvania from pursuing federal civil rights claims against a corrupt judge and keep secret the extent of the judge's misconduct, lawyers for some of the children asserted in federal court." A previous court order "failed to cover youths who aren't part of the litigation, but who may be entitled to damages if the case is certified a class action." The New York Times (7/28, A10, Urbina) also covered the story.
Sources say bribery case only the "tip of the iceberg." In a 2000-word article, the Legal Intelligencer (7/27, Grezlak, Strupczewski) reported, "While the federal government's case against former Judges bcenters on their roles in taking money from attorney Robert Powell, the co-owner, and Robert Mericle, the builder, of a juvenile detention facility and the judges' alleged abuse of the rights of juveniles sentenced to the facility, sources close to the investigation and inside Luzerne County say the scam some in the media have labeled 'kids for cash' was just the tip of the iceberg and only the most blatant example of the corruption overseen by the two judges." The two judges "ran the courthouse like a mafia family, according to several sources. And while The Legal has previously reported Conahan's ties to admitted felons, including reputed mob boss William 'Billy' D'Elia, multiple sources have said that Conahan's links to organized crime go back decades."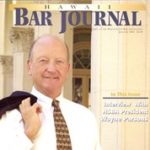 A resident of Honolulu, Hawaii, Wayne Parson is an Injury Attorney that has dedicate his life to improving the delivery of justice to the people of his community and throughout the United States. He is driven to make sure that the wrongful, careless or negligent behavior that caused his clients' injury or loss does not happen to others.