The alternative dispute resolution (ADR) craze was touted by supporters as a way to avoid the nightmare of court and jury trials. Well the nightmare was mainly one for big credit companies and other big corporations who didn't like their win percentage when a neutral judge or a jury looked at the facts and the law. So they ran massive ad campaigns and brainwashed the public into thinking that ADR was great. What they didn't tell the public as they slipped forced arbitration clauses into almost every contract that anyone signs these days, was that they were getting cozy with the credit industry and making huge profits from those relationships. Simply said, they created a biased system where the consumer had no recourse and the fox was guarding the chicken coop. The problem is particularly serious in the credit card industry
http://www.youtube.com/watch?v=3pVfKbCOyVg
Now the National Arbitration Forum (NAF) has been sued by the attorney general of Minnesota and consumers in California for corruption in being too closely connected to the dredit card companies. They used to do 200,000 arbitrations a year involving consumer credit card disputes. Turns out they are connected to a debt collection company. Listen to what a consumer advocate in the debt area has to report
http://www.youtube.com/watch?v=P6NK4BPHSck
For those who think that this is the American free enterprise system at work I suggest some remedial study of economics. When they take away consumer rights and then fix the system that is wrong at least and probably criminal.
In a blog at Lawyers USA (7/23), Sylvia Hsieh wrote, "In a stunning turn of events, the kingpin of consumer debt arbitration, the National Arbitration Forum, has been knocked out of the consumer debt business amidst allegations of consumer fraud, throwing into jeopardy hundreds of thousands of arbitration awards." The ink "was barely dry on the settlement when the American Arbitration Association announced on July 22 that it too would be getting out of debt collection arbitration until it can develop standards of practice. Consumer lawyers reacted swiftly." Dan Edelman, "a consumer rights attorney with Edelman, Combs, Lat turner & Goodwin in Chicago, has already filed the first class action against credit giant MB NA/FA and the debt collection law firm Mann Bracken, alleged to have financial ties to NAF, seeking to set aside thousands of arbitration awards and judgments entered against Illinois consumers since 2007." Lawyers "handling individual consumer debt cases are also planning to use the recent revelations to get judgments overturned and sue for damages."
MS Tribune: Congress should protect consumers from mandatory arbitration. The Minneapolis Star Tribune (7/23) editorialized, "Consumers using credit cards, cell phones and other forms of credit — meaning most Minnesotans — got a major victory this week when state Attorney General Lori Swanson announced that the St. Louis Park-based National Arbitration Forum, the country's largest arbitrator of credit collections, would stop most of its work in the state." While some "now claim that a day in court may get very crowded if consumers go through the legal process for dispute resolution, it's preferable to a system that allegedly was gamed in favor of big business against the little guy." The Tribune argues, "But with credit cards and cell phones knowing no state borders, it's well past time for Congress to pass a law to better protect consumers."
I am interested in hearing from any Hawaii consumers who have been forced into arbitration with either AAA or the NAF. If you find yourself in a situation like this hire an attorney to challenge the requirement of going into arbitration, keep all of your records and take notes about what the company says to you.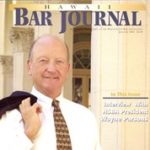 A resident of Honolulu, Hawaii, Wayne Parson is an Injury Attorney that has dedicate his life to improving the delivery of justice to the people of his community and throughout the United States. He is driven to make sure that the wrongful, careless or negligent behavior that caused his clients' injury or loss does not happen to others.