For years we have listened to conservatives from Reagan to Bush to McCain rail against federal laws and regulations that take away state powers. "Let the states decide" is probably the most spoken core issue by these politicians. Well behind your backs they are doing the opposite of what they say. Maybe I shouldn't be shocked because politicians generally don't give the people much credit for knowing what is going on and they lie to us regularly – saying one thing and doing the exact opposite.
But this "states rights" philosophy is so important to conservatives that I cannot imagine them being guilty of a double standard on this issue. Silly me. Bush and McCain and the conservative leaders have been blatently stripping states of their rights with a federal tool called "preemption". In secret meetings behind the scenes and hidden from public view the Bush administration has worked to avoid the control of states over dangerous products by making all such cases come under federal control and barring states from applying their law to the situation.
The American Association of Justice recently has issued an alert to this practice.
Who benefits? I shouldn't be surprised that thgis benefits big corporations allowing them to profit from dangerous products without fear of being held accountable by state laws that attempt to protect the local citizenry from harm.
Seven federal agencies have issued over 60 preemption regulations, to the great benefit of the powerful CEO's and CFO's and their corporate empires. The Office of Management and Budget (OMB) had direct involvement in the placement of the "complete immunity" preemption language. At first OMB claimed there was no truth to this claim. When the American Association of Justice went directly to the agencies in question they found emails showing that that OMB initiated preemption with the agencies, and that sometimes OMB provided the preemption language that this conservative partnership of corporate executives and the Bush administration wanted.
Consumer organizations like AAJ have to fight to get the true facts. In this instance the double standard was exposed:
In piecing together the emails from the FOIAs, AAJ uncovered the cozy relationship between federal officials and the industries they regulate. For example, the pharmaceutical industry intensified its efforts to influence the FDA in the months leading up to the physician labeling rule's release on January 24, 2006. Much of the lobbying efforts were aimed at Sheldon Bradshaw, who had succeeded Daniel Troy as FDA chief counsel in April 2005.

AAJ obtained emails that list attendees of a meeting between Bradshaw and the Pharmaceutical Research and Manufacturers of America (PhRMA) revealing the FDA chief counsel met with legal representatives from Pfizer, Wyeth, Eli Lilly, Berlex, Organon, Abbott Laboratories, Takeda, Sanofi-Aventis, Serono, AstraZeneca, Cephalon, Millenium, Eisai, Amgen, Astellas, GlaxoSmithKline, Bristol Myers Squibb, Johnson & Johnson, Novartis, Merck, and 3M.

Less than six months after this meeting, the agency would release its final physician labeling rule with complete immunity preemption language in the preamble, a complete about-face from the language in the proposed rule that specifically said the agency did not intend to preempt state law with the rule.
So when you read or hear the word "preemption" remember that it is an orchestrated attack by corporations on state efforts to protect you from dangerous products. Demand that your elected representatives stand up to this abuse and if you are a conservative, remind your felolow conservatives to adhere to one of the most important beliefs of your political philosophy: states' rights.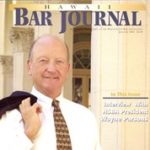 A resident of Honolulu, Hawaii, Wayne Parson is an Injury Attorney that has dedicate his life to improving the delivery of justice to the people of his community and throughout the United States. He is driven to make sure that the wrongful, careless or negligent behavior that caused his clients' injury or loss does not happen to others.