Ponzi schemes take their name from 1920s con artist Charles Ponzi. The swindlers promise huge returns and then pay returns to early investors with funds gained from subsequent victims.
Bernie Madoff was not the original Ponzi scheme scammer and neither are the three (3) Hawaii Ponzi scheme scammers that have recently been busted in the Islands. Ponzi is long gone but his legend remains and crooks line up every year to take advantage of the unwary. Usually by the time the law catches up with these crooks it is too late. Before I give the list of the latest hawaii Ponzi crooks I suggest that you look at a wonderful expose of the world of Ponzi by Des Moines Iowa Attorney and Consumer Advocate Steve Lombardi.
FINANCIAL MISCONDUCT: What is a Ponzi scheme and how did Madoff get away with it for so long?
Back in the Islands the four Hawaii Ponzi Schemes are as follows::
Joseph W. Sullivan, Chad S. Morisato and The Swiss Group – $8.1 million
WeCorp Inc., Stuart W. Jones and Payton J. Lowe – $2.1 million
James Lull — a former Kaua'i mortgage broker – $31 million
Marvin Cooper – $4.1 million
These folks are pikers compared to Madoff whose crime added up to Billions of dollars. Our Hawaii copy cats nevertheless have left ruined lives throughout Hawaii and on the mainland. Hawaii Commissioner of Securities Tung Chan warns that more of these schemes may surface as the bad economy forces the scam out in the open.
"Ponzi schemes usually burst when the perpetrators can't cover the payments," Chan said. "When everyone is getting the money no one complains to us."
In the Sullivan case Chan levied a $1 million fine against the two Honolulu men for conducting a Ponzi scheme, the state Department of Commerce and Consumer Affairs said today. According Chan, Joseph W. Sullivan, Chad S. Morisato and their related business, The Swiss Group, committed fraud in soliciting $8.1 million from investors both in Hawaii and on the mainland. The order against Sullivan came out on April 7 and imposed a fine of $1 million for violations of the Hawaii Uniform Securities Act. Sullivan, Morisato and The Swiss Group were also ordered to rescind approximately $8.1 million in illegal investment contracts and repay investors.
The charges are that from 1997 to recently, Sullivan and Morisato induced investments in commodities, offshore ventures and other securities. They guaranteed high interest rates. They violated Hawaii security laws by failing to disclose that:
"…. money went directly to Sullivan's personal checking account, that new investors' funds were being used to pay off prior investors, that Sullivan was a convicted felon for larceny and check forgery and that he used an alias under the name of Donald E. Allen to further perpetrate the fraud. Morisato and Sullivan issued documents that closely resembled commercial bank certificates of deposit and Sullivan signed these certificates in his alias."
Sullivan and his cohort created the "Swiss National Bank" in order to give the operation the appearance of legitimacy despite the fact that the entity was not a bona fide commercial bank and had not been authorized to use that name in violation of Swiss banking regulations.
When the Hawaii Securities Enforcement Branch brought action against Sullivan and the Hawaii Securities Commissioner issued a preliminary order for Sullivan and his team to cease and desist on December 18, 2006, the Ponzi scheme collapsed .
State securities laws require securities such as investment contracts, as well as individuals or entities soliciting or transacting securities, to be registered with the state. Advertisements to solicit must also be registered with the state. In addition, state securities laws include anti-fraud provisions.
In the WeCorp scam Honolulu Advertiser reporter Greg Wiles wrote that:
A Hilo, Hawai'i, firm at the heart of an alleged $2.2 million Ponzi scheme went to great lengths to impress potential investors, renting a $25,000-a-month Kahala beach front home, leasing expensive European cars and doctoring account statements to project an image of success.
The U.S. Commodity Futures Trading Commission (CFTC) filed court documents to bar the Big Island-based WeCorp Inc. and its two principals, Stuart W. Jones and Payton J. Lowe from further commodity trading. A similar claim was initiated by state Commissioner of Securities Tung Chan.
The documents filed by the CFTC claim that:
WeCorp took steps to portray itself to investors as having "Golden Goose" software that never lost money and automated trading of commodities.
It appears that WeCorp used almost all of the funds invested when they suffered trading losses coupled with the fact that Jones spent extravagantly on:
"luxurious lifestyles" that included manicures, travel and gift purchases that included those from Sensually Yours, a Honolulu lingerie store that also sells adult items.

"Defendants failed to disclose that they were experiencing trading losses in WeCorp's forex account, misappropriating WeCorp investor funds and that any returns on investment provided to WeCorp investors came from either existing WeCorp investors' original investments or money invested by subsequent investors," the CFTC filing said.

'We're not criminals'
Jones has taken the position that the allegations are false. According to the Advertiser report Jones told the reporter that:
"I'd love to talk about it and give our side of the story, but I think that would be unwise.

"We're not criminals. It will come out and it will be a different story."
A cease-and-desist order has been filed against WeCorp, Jones and Lowe, WeCorp's president and vice president, respectively.
Allegations include that Jones and Lowe sold unregistered securities to investors in Hawaii and several states as part of a Ponzi scheme in which new investor money was used to pay off older investors:
"Ponzi schemes usually burst when the perpetrators can't cover the payments," Chan said. "When everyone is getting the money no one complains to us."
WeCorp promised 20 percent monthly returns to investors by employing an automated trading system that Jones claimed "never lost money". WeCorp then provided false account statements and they lied to potential investors about WeCorp successes. WeCorp was created last year in Hilo. The allegations say that the first idea was to make it a real estate business but then Jones and Lowe decided to make WeCorp an off-exchange foreign currency contracts investment firm. Not surprisingly none of the principals had extensive experience in that type of business.
In addition the automated trading system didn't work. Despite knowing that the automated trading system didn't work, WeCorp told investors that it was successful during sales presentations on the Big Island, O'ahu and on the Mainland. WeCorp big returns in foreign exchange trading to eight Hawai'i investors who invested $337,500 with the firm. Another $1.92 million was invested by eight investors on the Mainland.
Those presentations included Jones' renting a beach front Big Island home to pass off as his own during a presentation to a California investor, the filing claims.
The CFTC filing alleges that WeCorp employed inexperienced traders to handle investments because of glitches in the software development. It never invested some money, instead using it to fund living expenses, including leasing Jaguar and BMW cars, the court documents allege.
The scam was exposed when three honest WeCorp workers took their suspicions to state regulators in February. Their decision to become Whistle blowers led to the state and CFTC investigations. Jones' personal expenses and the rent of $25,000 a month for a five-bedroom, four-bath Kahala home with a waterfall and swimming pool, leases on luxury cars and a down payment on a home in San Felipe, Mexico,
Dan Nakaso, another Honolulu Advertiser Staff Writer investigated the plight of the innocent victims in the $30 million Ponzi scheme by James Lull. Reporter Nakaso wrote that:
In September, James Lull — a former Kaua'i mortgage broker — admitted to defrauding as many as 50 victims out of as much as $30 million. He faces up to 20 years in prison and a fine of $250,000 as well as payment of restitution to his victims. Yesterday, Mollway said Lull owes $26,515,904 in restitution.

Lull was scheduled to be sentenced yesterday. But after some of his victims, such as Pheasant, told Mollway they believe he's hiding assets, Mollway postponed sentencing until May 14.
The stories of several victims were told in Federal Court to Judge Susan Oki Mollway. Here is what they said:
"My wonderful life as I knew it is now gone," Kaua'i hospice worker Jeannie Pheasant told U.S. District Judge Susan Oki Mollway. "My gut tells me this money is still hidden."

Pheasant said that she was living frugally and had invested almost everything she had with Lull — an amount that she declined to reveal yesterday. At one point, Pheasant told Mollway that she asked Lull if he would swear on a Bible that her money was safe.

"He said, 'I will swear on my children's lives that your money is safe,' " Pheasant told Mollway.

It wasn't.

Pheasant now works three to four different jobs and does not have time to help hospice patients die as they wish, including her own father, who died Dec. 31.

"This whole thing has devastated me," she said.

Like the others, Pheasant was not sworn in yesterday and did not officially testify in the proceedings. Instead, they spoke at a microphone from the court gallery behind Lull, who did not turn around to look at his victims.

Lull's victims said they invested in purported real estate deals that Lull promised would quickly pay high rates of return.

Lull promised one of his victims, Jon Anderton, "interest at 1 percent a month on all amounts advanced plus all or a share of the 'points' that Lull earned from his borrowers," according to the trustee overseeing Lull's bankruptcy.

Lull filed for bankruptcy in 2006, listing $31 million in debt to dozens of creditors.

Lull used the money from his victims for "personal purposes," according to the bankruptcy trustee, Ronald Kotoshirodo.

Lull made some payments to early investors with the money given him by later investors, Kotoshirodo said.

William Britt told the court yesterday that he and his wife invested with Lull so they could build their mortgage-free dream house on Kaua'i. Britt hoped to semi-retire from his work as a graphic artist and his wife planned to quit working to take care of their daughter.

Instead, they now have a 30-year-mortgage and have only been able to build the home's garage, which the family is living in — to the displeasure of their neighbor.

"And getting back into the workforce isn't easy in this economy," Britt said. " … Our confidence is shattered. He's totally taken our lives. … We were so trusting and he took that."

Anderton told the judge that he had no credit card bills and $80,000 left on his mortgage before he invested with Lull.

Now he owes $100,000 in credit card charges, has a $1 million mortgage with little equity and is using his children's college funds for living expenses.

Anderton can no longer help pay the college expenses for his niece, who had to drop out of school. He also was unable to continue housing his in-laws, who helped care for his children, and the in-laws have since moved back to Russia.

After hearing from three victims yesterday, Mollway said she was not convinced that Lull had met the conditions of accepting responsibility for his actions, which could affect the federal guidelines for determining his sentence.

If Lull is hiding some of the assets from his Ponzi scheme, Mollway said, "The acceptance of responsibility issue is a big concern for me."

During a break in the hearing, Michael A. Lilly — the lawyer for bankruptcy trustee Kotoshirodo — compared Lull to Bernie Madoff, who pleaded guilty in February to bilking billions of dollars out of investors in what some are calling the largest Ponzi scheme in history.

"This is Hawai'i's Madoff," Lilly said. "This is a mini-Madoff."

Attorney Scott Batterman spoke on behalf of his client, Alice Gordon, whose health is declining and did not have the money to fly to Honolulu yesterday. Gordon lost at least $4 million to Lull, the largest amount of any of his victims, Batterman said.

Asked whether it was Gordon's health or finances that prevented her from appearing at Lull's hearing yesterday, Batterman said, "Frankly I don't think she could stand to be in the same room as him."
In the Fourth Ponzi scam the U.S. Securities and Exchange Commission (SEC) and the U.S. Commodity Futures Trading Commission (CFTC) accused local resident Marvin Cooper of bilking deaf investors out of almost $3 million, $1.4 million of which he spent on himself.
Cooper is the chief executive officer of Billion Coupons Inc., and is charged with fraud and making unauthorized offers and sales of securities. One of the lawsuits filed against Cooper alleges he sought investors to engage in foreign currency trading and was able to raise $4.4 million from at least 125 investors by promising monthly returns of 15 percent to 25 percent.
According to the pleadings filed against Cooper he allegedly only invested a fraction of the money while using some of it for personal expenditures and other amounts to repay early investors. He also allegedly sent false monthly statements to investors showing big gains on their money.
Chan explained that:
"When everyone is redeeming at the same time, the Ponzi crashes," said Chan. That's occurring more and more in the current economic downturn, she said.

"You're going to see a lot of these Ponzis coming to light."

Chan said that, conversely, some people may be attracted to investments that are in reality Ponzi schemes because they are searching for ways to make up for lost ground in other investments.

"We caution against any deal that looks too good to be true," she said.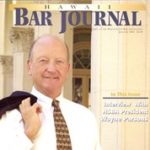 A resident of Honolulu, Hawaii, Wayne Parson is an Injury Attorney that has dedicate his life to improving the delivery of justice to the people of his community and throughout the United States. He is driven to make sure that the wrongful, careless or negligent behavior that caused his clients' injury or loss does not happen to others.