The Star Bulletin story "Halloween hay ride proves fatal to Big Isle girl, 7" reports that Emily Midgley of Hawaiian Ocean View Estates jumped off of a trailer at the end of a hay ride and was run over by the trailer.
The hay ride was a church event held on Halloween by the Evangelical Community Church.
At 7:08 p.m. Saturday, police said, a 48-year-old Hawaiian Ocean View Estates man was operating a 1998 Dodge pickup with a trailer hitched to the truck. A number of passengers including Midgley were on the hay ride.

As the truck was coming to a stop at the end of the hay ride in the parking lot of Ocean View Evangelical Community Church, Midgley jumped off the trailer and was run over, police said.
Midgley was taken to the Kona Community Hospital, where she was pronounced dead.
I have written about trailer incidents in the past and noted that few states have any laws or regulation affecting trailer safety or use of trailers. There is an organization that promotes safety and injury prevention of trailers named DangerousTrialers.org, that proposes laws and regulations that may prevent trailer injury or death. I support those efforts and will encourage Hawaii legislators to look into this subject when they convene in January 2010.
From the facts reported about the tragic death of little Emily Midgley it is not clear if any trailer safety issues were involved. Our thoughts and prayers go out to the family and friends of this little girl.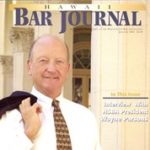 A resident of Honolulu, Hawaii, Wayne Parsons is an Injury Attorney that has dedicate his life to improving the delivery of justice to the people of his community and throughout the United States. He is driven to make sure that the wrongful, careless or negligent behavior that caused his clients' injury or loss does not happen to others.