Most motorcycle and moped crashes result in serious injury or death. Often the operator of the moped or motorcycle is not alive to describe what happened. The police arrive and the ambulance rushes to driver to the hospital and there is no evidence as to what caused the crash. Often the official report speculates about speed or driver error. Some of those crashes are not the driver's fault. Steering problems often are connected with maintenance errors in the front steering mechanism. Design defects in the steering mechanism can also be the cause.
Hawaii has many serious moped and motorcycle crashes and most riders don't realize that a defect in the front steering mechanism could result in shaking of the front steering mechanism and loss of control. The name of the problem is "Wobble" and it is an oscillation of the front handle bars. The rider feels the vibration and tries to hold the handle bars more tightly and may even put pressure on the handle bars. That only makes the situation worse.
Wobble generally occurs at speeds of 25 to 40 mph and results in an oscillation of 6 to 10 cycles per second. What happens is much like what you experience when the front wheel of a shopping cart wobbles. Motorcycles have a castor system on the front wheel similar to a shopping cart. Wobble can be caused by:
Road conditions
Tire conditions
Steering bearings out of adjustment
Unbalanced front wheel
Excessive wear in bearings and other suspension components.
Every moped and motorcycle brand is different but all can suffer from this problem. Maintenance of the front steering system, including proper lubrication and adjustment, are required to prevent a problem. Lax maintenance procedures can lead to a serious crash. Often the rider is unable to control the direction of the bike and crashes into a curb or crosses the centerline and hits and oncoming car.
A recent KHON news story reports a tragic moped crash where a 62 year old man was killed when he "lost control" and hit a concrete wall:
Police responded to a call that a moped rider crashed into a concrete barrier at around 1:40 a.m.

Police say the 63-year-old Ewa Beach resident was driving south on Coral Sea Road when he lost control, was thrown from his moped and crashed into a concrete barrier.

Police say the man was not wearing a helmet and speed might be a factor.
Will there be an explanation? Did the moped have a steering defect? We often never fund out.
There is a growing body of engineering evidence about these "unexplained" motorcycle and moped crashes. Mark Ezra, P.E. has published a good guidebook for investigating and correcting these steering defects: "Forensic Engineering Investigation of Motorcycle Instability Induced Crashes", Mark A. M. Ezra, P.E., NAFE 641F, June 2004
An experienced mechanic should be asked to inspect every moped and motorcycle front steering assembly for proper adjustment and lubrication.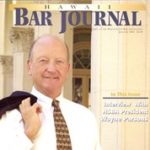 A resident of Honolulu, Hawaii, Wayne Parsons is an Injury Attorney that has dedicate his life to improving the delivery of justice to the people of his community and throughout the United States. He is driven to make sure that the wrongful, careless or negligent behavior that caused his clients' injury or loss does not happen to others.