The sad facts about motorcycle crashes in Hawaii:
7 motorcycle deaths on Oahu in 2008
2 motorcycle deaths on Oahu on a single day – January 1, 2009
6 motorcycle deaths on Oahu in the first 3 months of 2009
2 motorcycle deaths on Neighbor Islands in March 2009
Speed probably has something to do with this. And people often complain about motorcycles and mopeds swerving in and out if traffic. Not wearing motorcycle helmets is often said to be a factor in the seriousness of the injury. Motorcycle Safety has gotten a lot of attention as I wrote in an article on January 3, 2009: Motorcycle Safety Education Gets Attention After Fatal Crashes.
What do you think. All I know is that it is sad to see these tragic events occur in larger numbers. Each fatality is devastating to a family.
As Michael Tsai of the Honolulu Advertiser reports:
Just last month, HPD called on local drivers and motorcyclists to slow down and be aware of their surroundings in response to a surge in motorcycle-related accidents.

Two days later, Wesley Garcia of Wai'anae was killed when he lost control of his motorcycle and fell in the path of a school bus.

Last week, Simon Cesar, 19, of Hilo, was killed when the 2006 Suzuki motorcycle he was borrowing crossed the center line of Kipimana Street and struck a utility pole.

On Friday, 24-year-old Joshua Thurman of Lahaina died when he lost control of his motorcycle and crashed into a guardrail on Honoapi'ilani Highway on Maui.
One thing for sure, drivers need to share the road with motorcyclists, keep a lookout for a moped or motorcycle and all drivers on the highways must be cautious. Chris Laye is president of the local Harley Owners Group. Michael Tsai spoke with him about the problem:
"Motorcyclists need to slow down, take their time and not be in a rush to get where they're going," said Chris Laye, president of the local Harley Owners Group. "Drivers need to be aware of their surroundings, always their 6 o'clock (checking behind when changing lanes) and look who's around."

Laye, 38, said unstable gas prices and the rising popularity of motorcycles in general have contributed to greater numbers of riders on the highways, which in turn necessitates greater vigilance and responsibility by all.

"I would not necessarily say it's been a bad year; there has just been some misfortune," he said. "As long as people do the basic things like be aware and wear the proper protective equipment, (Honolulu) is as dangerous or as safe as anywhere else."
The statistics are a wake-up call to all motorists, moped riders and motorcycle riders.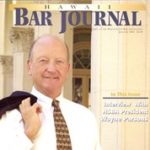 A resident of Honolulu, Hawaii, Wayne Parson is an Injury Attorney that has dedicate his life to improving the delivery of justice to the people of his community and throughout the United States. He is driven to make sure that the wrongful, careless or negligent behavior that caused his clients' injury or loss does not happen to others.