You were injured in an automobile accident and you have decided to consult with an attorney. The 13-point list below is what you need to bring in for your first interview.
This article continues the series on practical perspectives by attorneys from around the country _ FAQ's or Tips _ about what you need to know if you are injured by someone else's negligence andgo to see an attorney.
Mike Bryant of Bradshaw & Bryant PLLC
David Mittleman and Devon Glass of Church Wyble, PC in Lansing, Michigan,
Pierce Egerton of Egerton & Associates P.A. in North Carolina,
Steve Lombardi of The Lombardi Law Firm in Des Moines Iowa
Wayne Parsons of Wayne Parsons Law Offices in Hawaii
Rick Shapiro of Shapiro, Cooper, Lewis & Appleton, P.C. from Virginia and North Carolina
Being from Hawaii I am going to make this simple because it is. The work you do will please the lawyer and get the case started in the best possible way. This applies to almost any kind of injury or death case. It will take you a bit of time but it will result in a better _ and faster _ result in your case.
1. Your Name, address (not a P.O. Box), telephone numbers, e-mail address, fax.
2. Name, address, telephone numbers and e-mail of someone who the attorney can call if they cannot reach you.
3. Names of spouse, children and, if applicable, parents
4. Date and time that the incident happened.
5. The address or location where the incident happened.
6. The names, addresses, telephone numbers and e-mail addresses of all witnesses. A witness is someone who was there and saw or heard something, or has important information.
7. The company name and policy number of each insurance policy that you have. This includes every automobile insurance policy for any person who resides with you. It also includes any Homeowners insurance policies. Get a copy of each policy and bring it with you to the firs meting with the attorney.
8. Any photographs that you have that show anything about the incident OR your injuries. Photos of your car in an automobile injury or death case can be crucial evidence. Have those photos put onto a CD or DVD and give a copy of the DVD to the attorney.
9. All papers that you have regarding the case including letters from any insurance company, the police report, medical bills or other evidence of your expenses.
10. An itemized list of your property damage losses or repair expenses.
11. A list of every doctor, hospital, clinic, physical therapy center, diagnostic laboratory, chiropractor, Pharmacy or medical supply company that you have used in regard to these injuries.
12. A list and description of every prior serious injury you have had during your entire life. If you have had serious injuries they will be brought up in the case even if the injury that you are coming in for is a fractured toe and the prior injury was surgery on your ear. Your attorney wants the date of the injury, the names of primary doctors, the cause of the injury, the name of your attorney if you brought a claim and a statement of whether you still suffer any ramifications of each prior injury
13. A photograph of you for the file.
Each law firm has a set of forms for you to fill out and usually you will first sit with legal assistant who helps you fill out those forms. So why would you do all of the work that I describe above if you are going to have to do it all over again at the interview? The reason is that the 13 items that I've laid out above are what you will be asked. Their forms may not be necessary and the legal assistant may just take the materials that you bring in and integrate it into their file system. Or at least you'll have all of the info handy so the forms can be filled out quickly. Most importantly the advance work you do will get the case started quickly and in the best posture.
As a refresher from my earlier article in this series, the attorney will want to look at the Declaration Page for each one of your automobile insurance policies. Here is what that looks like:
The series will continue next week with more about the practical aspects of hiring an attorney and being a client in a case that may involve a personal injury or wrongful death claim. Although I am in Hawaii I work with the top attorneys doing personal injury cases across the country and without doubt the series is a fundamental course in the client – attorney relationship in injury or deaths claims. You may want to look at other aspects of this series of "real law for real people":
I was in an automobile accident. What should I do? Ten Tips For Hawaii Drivers, Wayne Parsons on September 14, 2009 – 3:59 AM EST.
What would a caveman bring to meet with the lawyer? Steve Lombardi , September 15, 2009 11:00 AM
Solving Legal Problems, Being a Client, Back to the Basics Steve Lombardi , September 15, 2009 8:48 AM
Car Accident Injury Client: What Makes the Case Good or Bad? (The Collision & Medical Care) , Rick Shapiro September 16, 2009 9:38 AM
Being a Client: More Tips To Help Improve Your Case If You've Been In An Car Accident , Devon Glass , September 17, 2009 8:39 AM
Presumed Guilty: How to Avoid Having Insult Added to Injury When You've Been Hurt in a Car Crash, Pierce Egerton , September 18, 2009 4:28 PM
What To Do After An Accident When The Adjuster Is There First, Mike Bryant | September 19, 2009 6:26 PM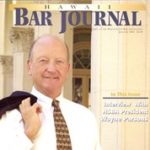 A resident of Honolulu, Hawaii, Wayne Parson is an Injury Attorney that has dedicate his life to improving the delivery of justice to the people of his community and throughout the United States. He is driven to make sure that the wrongful, careless or negligent behavior that caused his clients' injury or loss does not happen to others.