Talk about not letting the facts get in the way of an opinion, John Stossel has added another notch to his belt as a frivolous journalist in tonight's Fox News special attacking lawyers and lawsuits. His premise in this attack on our justice system?
"For every person lawyers help, they hurt thousands more."
Does he include Abraham Lincoln, Franklin Roosevelt, Morris Dees and Ralph Nader in that opinion? They were lawyers. If it wasn't such a serious subject Stossel would be funny. But here the subject is Justice, and ladies and gentlemen, justice is the most important goal of man on this earth, and lawyers and judges and juries deliver justice.
Frivolous journalism, I submit, does harm millions of people and undermines the important public issues that we face. It has never been more apparent that when Fox and Stossel get together. The thinly veiled role of Fox as a propaganda machine for the insurance industry, Wall Street, huge corporations and the U.S. Chamber of Commerce, is a perfect match for Stossel who mainly plays to an audience that doesn't check the facts.
FAIR – Fairness & Accuracy in Reporting – the well respected organization that "challenges media bias and censorship" had this to say about John Stossel:
Sometimes John Stossel's technique is no different from the sensationalism of any other tabloid TV entertainer. Witness his report on "dwarf tossing" (20/20, 3/8/02), in which he professed indignation at "busybodies" who want to stop the practice. "Dave Flood is a dwarf who is angry because his rights are being violated," declared Stossel. "He wants to be tossed."

But Stossel's approach can transcend the merely embarrassing, becoming careless or unethical. His reports are billed as news, but they sometimes rely on questionable methods such as deceptive editing that distorts arguments made by interviewees, the exclusion of facts that might conflict with his personal opinion, and the provocation of guests so as to broadcast their reactions out of context.
In the above article from 2003, The Stossel Treatment – Selective editing and other unethical tactics, by Rachel Coen, glaring examples of Stossel's willingness to distort and deceive are described in detail. Does Stossel care? Of course not. He is a propaganda tool of the super rich and powerful forces that Fox represents and is funded by.
Notice I call it "Fox" not "Fox News". Fox ranks right up there with Pravda for accurate reporting of the news. Fox is a propaganda machine not journalism.
What is the truth about lawsuits? Take a look at your car? The American Association of Justice (AAJ) in its statistical analysis of car safety, Driven to Safety: How Litigation Spurred Auto Safety Innovations has created a great graphic that shows you how lawsuits (and the lawyers who file them, risking everything on a contingent fee) have protected families and saved lives. Download that graphic and see if you agree with Stossel and his corporate bosses?
AAJ President Gibson Vance from Alabama explains the history of auto safety and lawyers:
In the wake of Toyota's sudden acceleration scandal, automobile safety is once again a hot-button issue. After internal documents showed Toyota knew about potential defects, hid them from regulators, and even bragged about saving money from limiting its recalls, Toyota received the largest fine ever levied against an auto manufacturer.

After 50 deaths and 8.5 million recalled cars, this saga is yet another example of regulation as an incomplete safeguard and manufacturers that put profits over safety. Unfortunately, this scenario has been repeating itself for decades.

In the 1960s, court cases began highlighting the dangers of car design and the willful negligence of manufacturers in designing cars that they knew to be unsafe. Since then the civil justice system has worked hand-in-hand with regulation to protect Americans, while spurring generations of safety innovations.

Litigation will ultimately play a key role in identifying what went wrong with Toyota. These findings will aid regulators and legislators in protecting the American public in the future. By holding manufacturers accountable, the civil justice system will continue to spur safety innovations, as it has done for half a century.
Lawsuits always have a winner and a loser and someone is always unhappy at the end. The losers often complain about how unjust the system was to them. And in a free society just as with free speech we allow people and corporations to bring their cases to the courthouse. The rules allow a party to claim that a lawsuit is frivolous and the judge can sanction a party or their lawyer for filing such a claim. The system also self regulates the lawyers and their clients in personal injury _ tort _ cases. The lawyer doesn't get paid unless the case is won and a money judgment is collected. Insurance companies don't pay money for weak cases and lawyers can't pay the rent when they file weak cases.
I have seen frivolous defenses from the insurance companies in my cases. I will get to that in my next article.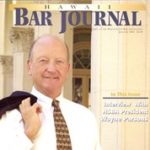 A resident of Honolulu, Hawaii, Wayne Parson is an Injury Attorney that has dedicate his life to improving the delivery of justice to the people of his community and throughout the United States. He is driven to make sure that the wrongful, careless or negligent behavior that caused his clients' injury or loss does not happen to others.