Your car is now stopped and you are sitting inside, shocked and hurt, after a collision on the highway. What do you do? What do you need to know? What do you say? Okay, stay calm and take a deep breath and call 911.
What you should do when you are in an automobile accident varies from state to state but there are some basic things that apply everywhere. Below are 10 steps that will help you get through the events at the scene of the crash and the few days following your injury.
At the outset, you can find an attorney to talk to on the telephone where you live by doing a Google or Yahoo Search using the terms: Injury Board Honolulu. If you live in another town in another state just put the name of your town or state in place of Honolulu in my example. That is the best way to get nearly instant legal advice.
The following are some suggestions that have uniform applicability to all automobile accident cases in the United States. If you have insights or corrections I want to know. A group of attorneys across the country have pooled our experience to answer the questions that our clients ask. As the shock of the collision sets in, what should the people involved do? Or not do?
Step #1: Help the Injured. Make sure everyone in your car is okay, call 911. Make sure everyone in the other vehicle is okay. Note the time.
Step #2: Don't apologize. There is a tendency of many people to apologize. There is plenty of time to apologize later. At the scene of the collision focus on injuries and safety and leave who was at fault for later.
Step #3: Exchange Information. Get the name, address, insurance company name and policy number of the other driver(s). Write down the license plate number of all involved vehicles.
Step#4: Witnesses. Check the area to see if there are bystanders who may have seen the incident. Point them out to the police and, if you are able to do so, ask them if they saw the crash and if they did get their contact information. Name, address and telephone number. The police often miss witnesses at the scene.
Step #5: Take Photographs of the cars and the scene. A picture is worth a thousand words and it can sometimes be important to have photographs of what the scene looks like if a dispute arises later about what happened. Photographs of any injuries that can be photographed also is a good thing to do.
Step # 6: Cooperate With the Police. This goes without saying.
Step # 7: Be Careful What You Say About Your Injuries. When you talk to the police on medical personnel at the accident scene, make sure that you know what you are saying in general and specifically about injuries. You may feel lucky to be alive and so when the police officer asks how you feel or "are you injured?" you may say "I feel fine!" or "I'm okay, despite being banged up. Later on you may find out that you have a herniated disk in your neck that you weren't aware of immediately after the collision. The excitement, relief and adrenalin of a car collision can produce a lot of things that mask your injuries. The aches and pains can come on stronger later in the day or even after a week. Don't prejudice your injury situation by blurting out "I'm okay" at the scene. The other driver's insurance company will never let you forget it. It is also important to let the police and the medical personnel what hurts. Particularly let them know if you hit your head as you may have a closed head injury that has caused blood to be leaking into your skull and that can kill you even though you may be able to walk and talk right after the incident. You may not even have much of a headache at first. As the bleeding progresses and the pressure in the skull increases, a severe headache will come on quickly and death from crushing of the brain happens quickly. It can hours, days or even weeks. If you hit your head and were unconscious or dazed, report this to the police and the medical people. Insist up on a CT scan to see if an internal bleed exists. You can read more on this subject at: Billy May and TBI: Another Closed Head Injury Death?; or, at Misdiagnosis of Brain Injury – Its Not Just a Headache – Remembering Natasha Richardson Wayne Parsons | May 03, 2009 2:20 PM
Step # 8:Tell the nurses and doctors everything. This is not a time to leave anything out. Think about what hurts and how you feel. Write it down and hand it to the nurse. Read it to the doctor. Notice odd feelings that just don't feel right. If you don't report an area of injury for a few days they can accuse you of making it up of they can suggest that maybe you hurt it somewhere else. Most injuries heal and the problem goes away during the 6 month period after an auto accident. But some get worse over that period of time even though they started off relatively small. This obviously doesn't apply to a fractured femur or broken arm.
Step # 9: Call your insurance agent. Your automobile insurance policy requires you to inform the company if you are in an automobile accident. That means calling the agent who sold you the insurance. The agent will ask you to make a statement. If you are hurt and if you may want to file a claim in the future, you should think twice about making a statement without getting legal advice first. An Injury Board attorney will help you with this at no cost to you if you retain them to investigate your case. The agent will want to tape record you over the telephone. Note that I am talking about "your" insurance company. So you ask why not make a statement to "your" insurance company. First of all that statement can be obtained by the other driver's insurance company if you make an injury claim. Any mistake you make in your statement can be used against you later. In addition, if you have an Uninsured or Underinsured Motorist claim, you will bring that against your own insurance company and they can do the same thing: use an innocent mistake in this initial statement against you. In the interview the insurance agent usually phrases questions in ways that lead you to minimize your injuries. That is the most common problem we face with these early statements. When I am involved at this early stage of a car crash case, I deal with the insurance agent, get the company the information they need and hold off on tape recorded or written statements from my client until an appropriate time. Remember, I said that you have to notify your insurance company about the accident but that doesn't mean that they can make you do anything they want you to do.
Step #10: Fill Out Any Forms Carefully. Your automobile insurance company is probably going to pay your medical bills even though the other driver was at fault. If you look on the Declaration Page of your automobile insurance policy you will see a line item for Personal Injury Protection or PIP. PIP pays the medical bills and sometimes wage loss. The amount available is whatever you bought. Unfortunately most insurance sales people their clients to buy the minimum if you have health insurance. That is always bad advice. Buy as much PIP as possible and add in coverage for as much wage loss as possible. It may take a long time to get the other driver's insurance to pay anything – years! And a lot of drivers have no insurance on their cars even though it a law violation to drive without insurance in some states like Hawaii. Your insurance company won't pay your medical bills unless and until you fill out an application for PIP benefits. The form is usually two pages long and is mostly innocent questions about the incident. There is usually a small box to "describe the accident" and another to "describe any injuries". This is where the trouble arises and where you really should have an attorney help you fill that part in. If you do it alone don't say much. Regarding injuries just refer to the doctors and hospital and tell them to get the information from the medical facilities. An excellent article on automobile insurance can be found at: Uninsured Drivers On The Highways: Cause of Higher Rates of Injuries & Deaths? By Rick Shapiro a top attorney from Virginia. Here is a Declaration Page or Dec Page:
Note that uninsured motorist protection cost this driver $21.95 to get $500,000 of protection if they are injured or killed, heaven forbid, by an uninsured driver. We have 140,000 of them in Hawaii. For $22 a family in Kaneohe or Wailuku or Des Moines is protected. Did your automobile insurance sales agent tell you to buy this coverage? If not I would like to hear why not!
The same applies to both PIP and underinsured coverages. The 140,000 uninsured drivers in the Islands are a small part of the people who buy the minimum insurance. Our legislature in Hawaii is in bed with the insurance companies. Hawaii has ridiculously low limits of coverage. Why? That saves All State and State Farm and AIG and Liberty Mutual a lot of money. Their premiums to drivers are the same and Hawaii lets them limit their exposure to $20,000. In most states it is $300,000. But Calvin Say and Governor Lingle don't care. So what if an automobile accident victim on Oahu can't work for the rest of his life. The insurance companies fill their campaign contributions and because they let the insurance companies reap big profits in Hawaii as they sell insurance policies that have low payout limits. This is really bad. Why aren't we hearing about this on major news outlets in Honolulu like KGMB, KITV, KHON and the Advertiser and Star Bulletin? Maybe its because they run prime big bucks advertising from All State, State Farm, AIG, Liberty Mutual and HEMIC. I know, quit being so cynical!
Well that takes you through the first phase of being in an automobile accident in Hawaii. There is much more and if you stay connected through Injury Board, a group of attorneys from across the country are combining on a series of articles about answers to the important questions that people have when they are injured and must deal with insurance companies, the police, doctors and the process of filing a claim. The series will cover the entire range of common issues that arise in a case from the scene of the accident to filing a lawsuit or arbitration and what happens after that.
Follow my Blog and the Injury Board Blogs from the following attorneys about what happens if you bring a claim in your automobile injury accident case. These law firms are dedicated to injury prevention, safety and protecting families. You may want to post a Google Alert for each of the following attorneys and get the entire series.
Michael Bryant of Bradshaw & Bryant PLLC in Waite Park, Minnesota,
David Mittleman and Devon Glass of Church Wyble, PC in Lansing, Michigan,
Pierce Egerton of Egerton & Associates P.A. in North Carolina
Steve Lombardi of The Lombardi Law Firm in Des Moines Iowa
Rick Shapiro of Shapiro, Cooper, Lewis & Appleton, P.C. from Virginia and North Carolina
The suggestions in this Blog are not intended to replace a consultation with an attorney, nor do they take into consideration the facts and law that applies to your particular situation. The attorneys who belong to the Injuryboard are available answer individual questions to help you with your case. Feel free to get the help you need by contacting one of us.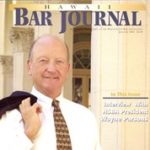 A resident of Honolulu, Hawaii, Wayne Parson is an Injury Attorney that has dedicate his life to improving the delivery of justice to the people of his community and throughout the United States. He is driven to make sure that the wrongful, careless or negligent behavior that caused his clients' injury or loss does not happen to others.