1. PIP (personal injury protection): PIP is what pays for your medical care and wage loss if you are injured. PIP coverage is cheap. Make sure you get the maximum that they will sell you. Your agent should tell you to max this PIP coverage. Five days in the intensive care unit will cost $400,000. If you PIP is $20,000 and the drunk who crashed into you has no insurance, PIP is all you have. Demand the max. Don't be a fool.
2. UM and UIM: Stop. Do not pass "GO". Why? UM is uninsured motorist protection. UIM is underinsured motorist protection. You buy that protection. It is cheap. Why do you buy it? Over 30% of the drivers on Hawaii roads have no insurance. Almost 99% of the drivers have minimum coverage: $20,000. If a minimum coverage driver runs over a working woman with 2 kids, and she has $800,000 in medical bills, a deadbeat husband and no health insurance (please call our congressional delegation and demand a Public Plan for health care reform) she goes on welfare and taxpayers pay. You and me.
3 Bodily Injury – Buy the most that they will sell you.
bodily injury coverage

An insurance policy that pays for injuries caused to other individuals in the event of a motor vehicle accident. Described by the notation "a/b" where "a" is the dollar amount in thousands of coverage per person, and "b" is the dollar amount in thousands of coverage per accident. Generally, insurance companies will only the allow purchase of UM/UIM coverage up to the insured's current bodily injury limit.
Your personal assets are at stake. And do you want to live your life with the guilt that you caused a million dollars of losses to a family like yours and you couldn't pay for it? That is why we buy insurance. Not to protect ourselves but to protect those who we hurt..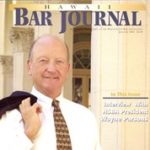 A resident of Honolulu, Hawaii, Wayne Parson is an Injury Attorney that has dedicate his life to improving the delivery of justice to the people of his community and throughout the United States. He is driven to make sure that the wrongful, careless or negligent behavior that caused his clients' injury or loss does not happen to others.