A tragic teen pedestrian death in Waimanalo now seems to be the result of intoxication as police have arrested the 46 year-old Waimanalo man who was driving the SUV of suspicion of drunk driving as reported by John Windrow of the Honolulu Advertiser . The victim has been identified by the Honolulu Medical Examiner's office as Junior Ilae a well liked student at Kailua high school.
Ilae was riding his moped in the right (shoulder) lane travelling West when Dwayne K. Canon, 47, of Waimanalo turned his SUV to the right attempting to enter the Waimanalo Town Center.
Police arrested Canon on suspicion of negligent homicide, operating a vehicle under the influence of an intoxicant and driving with a suspended license. He was allegedly convicted of two prior DUI's in 1982 and 1989.
Police are also investigating the speed that the moped was travelling and often this requires analysis by engineers and traffic investigators to "reconstruct" the accident from physical eveidence to determine the speed and locations of the vehicles as the collision occurs. They can look at damage to the SUV and to the mopped as well as skid marks and other physical evidence to recreate the accident. Given that Canon could face a lengthy jail term for this incident I would expect the excellent investigation team at HPD to do a thorough investigation. The photo of the SUV as provided by the Honolulu Advertiser and KGMB Channel 9 News shows extensive damge indicating a high speed collision.
Photo courtesy of KGMB 9
The time for such an investigation can be considerable and so immediate answers may not be avail available for some time.
The Ilae family has asked for privacy and we all can imagine how horrible the loss of this bright young man must be to his parents, family and friends. No loss in life can be worse than the loss of a child. This tragic loss brings to 34 the number of deaths in automobile accidents on Oahu this year. At the same time last year the total was 27. I wrote about the Ilae death yesterday before knowing his name or the name of the other driver: "Teen Killed In Yet Another Pedestrian Death On Oahu". At the time of that report I did not realize that young Mr. Ilae was on a moped.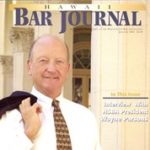 A resident of Honolulu, Hawaii, Wayne Parson is an Injury Attorney that has dedicate his life to improving the delivery of justice to the people of his community and throughout the United States. He is driven to make sure that the wrongful, careless or negligent behavior that caused his clients' injury or loss does not happen to others.