KGMB TV News reports a traffic death on the Big Island on Sunday. Early Sunday morning shortly before 7 A.M. in Puna a woman was killed at the intersection of 25th Avenue and Paradise Drive. Doreen Kaina, 20, was apparently speeding when she lost control of her car and hit a utility pole.
"They don't drive the posted limit. We need more signs up," Andrew Ariceayos, Hawaiian Paradise Park. "Just people need to slow down. There's a lot of kids. Kids on the road."
A 19-year-old passenger was not seriously hurt according to police. Since the incident occurred on a private road it is not counted in state traffic fatality statistics.
The epidemic of traffic deaths in Hawaii continues. Again speed is implicated.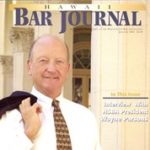 A resident of Honolulu, Hawaii, Wayne Parson is an Injury Attorney that has dedicate his life to improving the delivery of justice to the people of his community and throughout the United States. He is driven to make sure that the wrongful, careless or negligent behavior that caused his clients' injury or loss does not happen to others.