Speed and alcohol may have been involved in the tragic death of Sara Sutton, an 18-year-old Big Island resident.
According to KITV News
"Police found the crashed 2000 Honda two-door sedan against a macadamia nut tree at about 8:30 a.m. on Wednesday. The car crashed some time between 6 p.m. Tuesday and when the car was found, police said.

It appears Sutton's car ran off the side of Maikalani Drive near Amauulu Street in Hilo before hitting the tree.
Sara was taken to Hilo Medical Center, where she was pronounced dead at 10:22 a.m.
An autopsy has been done to find the cause of death, and police want people with information about Sutton's activities Tuesday evening to call the department's non-emergency line at 935-3322. When alcohol is involved in a serious accident the police often want to see if the person was illegally served by a liquor establishment.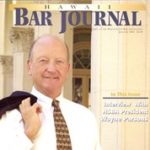 A resident of Honolulu, Hawaii, Wayne Parson is an Injury Attorney that has dedicate his life to improving the delivery of justice to the people of his community and throughout the United States. He is driven to make sure that the wrongful, careless or negligent behavior that caused his clients' injury or loss does not happen to others.