Insurance companies have had great success in court when the damage to the vehicles is very small. They argue that no one could be injured if the photos show only minor dents and scratches on the cars. Juries and judges are very unlikely to assess damages against a defendant when the damage to the vehicles is small.
Hawaii attorneys have battled this issue out in court in many cases. At trial both sides sometimes put on biomechanical engineers to argue about the forces that can be transmitted to a passenger's body from the collision. Jurors seem to reject a lot of this pseudo-scientific testimony and most Hawaii lawyers don't use these expensive experts now as a result.
Jurors place a lot of faith in their perceptions about the injured person and the injured person's doctors. They look and listen closely to the testimony and base their decision on what they feel. If they get the feeling that the plintiff is greedy or over-reachhing on their claims of injury they will vote for the defense. Similarly if they feel that the defendant is a bad person, they will vote against that person (and in favor of the Plaintiff.
When a vehicle has little or no damage the Plaintiff has a significant chance of getting nothing at trial. Even if the Plaintiff wins, the awrds raely exceed $25,000 and are often far less than that.
If you have an automobile accident (I call them "collisions") with small damage to the vehicles you may have a hard time finding an attorney to handle the case unless you have a clear medical explanation about how you could have suffered any injury. Hire an attorney who belongs to The Consumer Lawyers of Hawaii and The American Association of Justice for such a case. Those organizations have materials the show how such cases can be successfully resolved in settlement or trial. The Injury Board also supports the collaboration of top attorneys across the country who share the knowledge of actual cases to improve outcomes for people like you. Hawaii lawyers are linked to attorneys across the country through these professional organizations that improve attorney skills and give cutting edge materials to share for your benefit.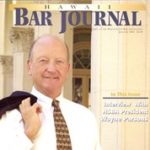 A resident of Honolulu, Hawaii, Wayne Parson is an Injury Attorney that has dedicate his life to improving the delivery of justice to the people of his community and throughout the United States. He is driven to make sure that the wrongful, careless or negligent behavior that caused his clients' injury or loss does not happen to others.