The hit-and-run driver of a vehicle that struck and killed 68-year-old Pelagia Igne last week remains at large. The public is being asked to help bring the driver to justice.
GEORGE F. LEE / GLEE@STARBULLETIN.COM
Evelyn Arrocena held a picture yesterday of her mother, Pelagia Igne, who was killed last Friday in a hit-and run crash on Fort Weaver Road. Igne, 68, was struck by a light-colored van at about 5:15 a.m. and died after being taken to the Queen's Medical Center.
In a news story by Rosemarie Bernardo in the Honolulu Star Bulletin today the family of Pelagia Igne asked the hit-and-run driver who killed the 68-year old woman along Fort Weaver Road to surrender. The motorist fled the scene and has not been found by police. Someone on Oahu knows the identity of the driver. We all hope that either the driver will come forward and turn himself in to the police, or that someone else will do the right thing and identify the driver.
I wrote about this tragic loss of life last week before the identity of Mrs. Igne was released.
Fort Weaver Road Hit-And-Run Claims Another Life – Wayne Parsons
To her family I want to give my deep condolences and reassure them that everyone in Hawaii wants justice to be done and will continue to search for the perpetrator!

"That's the worst thing," said daughter Evelyn Arrocena, who hopes the driver will turn himself in. "We want justice for my mom. Her death was so unexpected, so sudden."

Family members of a 68-year-old woman are stunned that a male driver of a van did not stop to help after striking and fatally injuring her last Friday on Fort Weaver Road in Ewa Beach.
We are looking for a man who was driving a light-colored Van on Fort Weaver Road at about 5:15 a.m. who struck and killed Mrs. Igne. She died after being taken to the Queen's Medical Center.
According to the Star Bulletin story Mrs. Igne and her husband, Ernesto, have lived in Hawaii since 2001 after arriving from Ilocos Sur, Philippines, and lived with her daughter and her family. She left home at Aikanaka Road at about 5:10 a.m. and was walking to a bus stop about five minutes away when the Van Driver struck her as she walked.
Mrs. Igne was going to work at Fat Law's Farm near Hawaii Medical Center West. If you were in this area on the morning of the incident perhaps you saw something that can hgelp the police.
Arrocena said her mother enjoyed working at the farm and the camaraderie with other farmers. She had a lot of friends there, who she said described her as a jolly person who always had a smile on her face.

Igne often sent money to the Philippines to her relatives and helped pay for her nephew's college tuition. She also helped care for Arrocena's two younger children, ages 3 and 4, while she worked.

"I'm going to miss her so much," Arrocena said.
Pelagia and Ernesto were married for 43 years. I lost my wife last year to cancer and I know how much a loss like this one is affecting Ernesto. "He is really sad," said Arrocena of her father.
GEORGE F. LEE / GLEE@STARBULLETIN.COM Evelyn Arrocena holds her son Andre as she and her father, Ernesto Igne, look over photos of her mother, Pelagia Igne, who was killed last Friday in a crash on Fort Weaver Road. Police are seeking the driver, who fled the scene.
Mrs. Igne is survived by her other daughter, Marilyn Remolacio; brothers Alejandro and Kunos Tangonan; sisters Maria Ilac and Esther Tangonan; six grandchildren; and a great-grandchild.
Services were to be held at 7 p.m. today at Ewa Beach Baptist Church. Family members plan to bring her back to Ilocos Sur on Tuesday, where she will be buried.
If you know anything that could help police find the identity of the driver of the Van please write to me or call the police.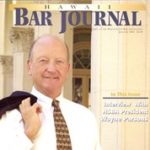 A resident of Honolulu, Hawaii, Wayne Parson is an Injury Attorney that has dedicate his life to improving the delivery of justice to the people of his community and throughout the United States. He is driven to make sure that the wrongful, careless or negligent behavior that caused his clients' injury or loss does not happen to others.