On August 6, 2008, Hawaii relived a tragic day in 2006 at the sentencing of John Szemkow, who drove his car in the wrong direction into oncoming traffic on Kunia road in April 2006. One of the bloodiest auto accidents in Hawaii's history resulted from Szemkow's actions.
Smezkow got a tough ten (10) year sentence for his part in this tragedy. The many lives that have been permanently altered and destroyed will gain little consolation for their losses.
A pickup truck driven by Nova Dacquel carrying twelve people was innocently – and carefully – driving along Kunia road when a cement truck, swerving to avoid colliding with the charging on-coming Szemkow vehicle, crossed into the path of the fated pickup truck.
KHON coverage of the sentencing brought out the anguish of those whose lives were changed forever by one bad driver. The driver of the ill-fated pickup, who did nothing wrong is haunted by guilt about the resulting calamity. As reported on KHON she testified at the sentencing that "I always feel guilt wherever I go, flashback when I'm going work and when I pass by where the accident happened."
Isn't it odd how we call these horrific calamities "accidents"? When you spill something on your lap it is an accident. When something slips in your hands and breaks on the floor it is an accident. When you look at your crying baby in the car seat and run into the car ahead it is an accident. But we all see those drivers out there on Hawaii roads everyday, the John Szemkow's of the world. They speed. They cut in and out of traffic. They ignore the speed limit and complain with blaring horns about drivers who do.
Oh "yes", they are "good" drivers. Aren't we all fed up with the John Szemkow's of Hawaii roads? For each one of him being carted off to jail there are 500 near misses by drivers who are oblivious to their actions. How many lives be ruined and when I say ruined I am not talking about a stain on a shirt or a bump on a bumper. Shooting someone with a gun equals a life sentence. John Smezkow did no less and in fact did much more than he would have if he simply shot a gun.
How can we improve drivers on Hawaii's streets and highways? Isn't it time to get the John Smezkow's off the roads? What do you think?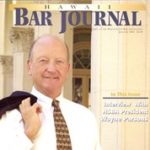 A resident of Honolulu, Hawaii, Wayne Parson is an Injury Attorney that has dedicate his life to improving the delivery of justice to the people of his community and throughout the United States. He is driven to make sure that the wrongful, careless or negligent behavior that caused his clients' injury or loss does not happen to others.