The Detroit News (5/21, Priddle, Shepardson) reported, "A flurry of objections in the Chrysler LLC bankruptcy case continue to be filed in advance of a hearing next week to approve a tie-up with Fiat SpA." A motion was filed by attorneys for "Public Citizen and other plaintiffs…seeking to prevent Chrysler from dropping personal injury lawsuit and product liability claims in bankruptcy." In addition, they "argue that the inability to sue over vehicle problems could drop the resale value of Chrysler vehicles."
Injured customers speak out on potential terms of Chrysler bankruptcy. ABC-TV (5/21, Stark) reported that lawyer "Scott Nealey…fears that the terms of Chrysler's bankruptcy proceedings may mean the lawsuit" by his client against the car company "could get thrown out." His client, Farbod Nourian "is speaking at a news conference designed to put pressure on the government to ensure he and others like him do not lose their day in court." Nealey said, "Chrysler has asked for the sale to be free and clear." He added, "They take all the assets and they have no obligations to people who have Chrysler vehicles right now. So if you have a design defect with Chrysler and it is something the company would normally fix, or you have a personal injury, you would be left with no remedy whatsoever."
The Indianapolis Star (5/21, Mcfeely) reported, "Jeremy Warriner's legal battle against Chrysler — over an accident that cost him his legs — seemed about to end this month." However, "just six days before a May 5 mediation date in his personal injury case, the struggling company filed bankruptcy under a plan brokered by the Obama administration — a plan that could prohibit Warriner and hundreds of others from pursuing legal claims." He plans to testify against those terms "before the House Judiciary Committee in Washington." He said, "My message is that people who have been injured deserve the opportunity to face Chrysler in court or in mediation."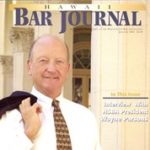 A resident of Honolulu, Hawaii, Wayne Parson is an Injury Attorney that has dedicate his life to improving the delivery of justice to the people of his community and throughout the United States. He is driven to make sure that the wrongful, careless or negligent behavior that caused his clients' injury or loss does not happen to others.