Across the country backing up motor vehicles run over at least 50 children each week. Of that number 2 children die and 48 are injured on average. According to the safety organization Kidsandcars.org :
• The predominant age of victims is one year olds. (12-23 months)

• Over 60% of backing up incidents involved a larger size vehicle. (truck, van, SUV)

• Tragically, in over 70% of these incidents, a parent or close relative is behind the wheel.
A starting point for getting a handle on this issue is one of semantics. We have long referred to "blindspots" in driving a car. Many safety organizations are calling for us to use the term "blindzone" rather than "blindspot".
Safety advocate groups prefer the phrase "blindzone" for several reasons:

1. The use of the word "blindzone" differentiates the area behind the vehicle that often contributes to backover incidents (and similarly the area in front of the vehicle that contributes to frontovers) from the area beside a vehicle that lacks visibility when changing lanes.

2. Referring to the area that lacks visibility behind or in front of a vehicle as a "spot" grossly understates the magnitude of the danger. On average, most vehicles have a blindzone behind them that measures approximately 7-8

feet wide and 20-30 feet long. An area of that dimension is certainly not a "spot" and is therefore more accurately described as a "zone."

3. Consumer Reports, a national leader in evaluating vehicle safety, has changed its language to incorporate the term "blindzone" in all future publications.

4. The National Highway and Traffic Safety Administration (NHTSA) has agreed to incorporate the use of the term blindzone when describing the area behind and in front of the vehicle that lacks visibility.
The blindzone has reached national recognition thanks to kidsandcars.org. Here is a national piece by CBS trying to raise public and family awareness of the blindzone and backover injury to kids.
http://www.youtube.com/watch?v=Vfae-JBQ5tY
At Kidsandcars.org they have some great charts that will show the blindzone. Be aware of what to look for and memorize the "blindzone" and we will have fewer kids hurt by cars in Hawaii. I have not seen any local media coverage of the crusade to reduce and eliminate children being injured by cars. The blindzone would be a great public service announcement for our television stations. Not that the Casey Anthony case and the President's birth certificate aren't import but how about a 2 minute spot for savings lives?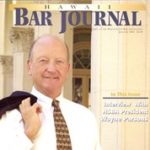 A resident of Honolulu, Hawaii, Wayne Parson is an Injury Attorney that has dedicate his life to improving the delivery of justice to the people of his community and throughout the United States. He is driven to make sure that the wrongful, careless or negligent behavior that caused his clients' injury or loss does not happen to others.