According to a report at Honoluluadvertiser.com, a man in his 40s was struck by a car as he crossed North School Street in a crosswalk on Tuesday evening. The pedestrian is in critical condition at The Queen's Medical Center. The driver of the car was allegedly a man in his 70s.
According to someone who knows that area, North School Street near Pohaku Street has visibility obstructed by parked vehicles:
Kaumanua wrote:

"I know this intersection too well. It is difficult to see pedestrians at the crosswalk because of the many trucks parked along the side of the road as well as bus stop that is right before the crosswalk. they should consider moving the crosswalk further downroad from the bus stop or enforce the no-parking zone near intersections and cross walks . . . another bad one is on nuuanu avenue, mid block between School and Kuakini streets."
The injury happened less than a mile a mile from where a 54-year-old woman, Phoebe Gagarin, was struck and killed by a Roberts Hawaii school bus Monday morning, at North School Street and Gulick Avenue. See my article on that incident and other resources on crosswalks:
Pedestrian Crosswalk Fatality In Kalihi Adds To Alarming Statistics
The KGMB television news report written by Tina Chau – tchau@kgmb9.com – adds more detail:
A witness tells police the man was in a crosswalk.

"At this time we don't suspect any impairment on the part of the driver or speeding for that matter," said traffic investigator Lt. Darren Izumo.

*****

The accident happened at dusk and nearby residents say as it gets darker, there aren't enough street lights in the area to keep crossings safe.

"When I came home one night, I almost ran over someone and they were wearing black and we cannot see," said one resident.
These stories are terribly sad for the victim's friends and family. Gargarin was a hard working woman headed t her second job at a hotel in Waikiki when she was killed acording to KGMB.
Gagarin was actually not scheduled to work Monday but was headed in for an extra day as a housekeeper at the Doubletree Alana Hotel in Waikiki when the crash happened. The 54-year-old rented a room in Clarita Duran's home. The two were like sisters.

"I miss her," Duran said, "only yesterday afternoon when the sister came, that's the time I found out she died already. I cannot sleep."
The people in Kalihi should be on heightened alert when crossing the street or driving in the area. I wonder when the DOT will invest in health and safety by installing one of the new lighted crosswalk systems like the one I have written about before in The Hawaii Pedestrian Crosswalk Safety Chronicles: Innovative Solution for Crosswalk Safety by Wayne Parsons. The IRWG system is a proven and cost effective way to stop crosswalk injury or death. Amazingly our government officials sit back and delay when people are dying in the streets. Is that too harsh? You tell me. Better yet perhaps an elected official or DOT spokesperson can tell us why they have delayed implementing life saving technology in the face of these mnany deaths and ruined lives.
Money? You think it is the cost of these innovations? Well guess what. Tax dollars often pay for the medical and rehabilitative expenses for injured people. So it all comes back to you as the taxpayer. Also remember that you are a voter. Elect proactive haelth and safety candidates.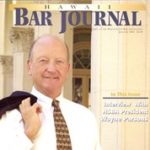 A resident of Honolulu, Hawaii, Wayne Parson is an Injury Attorney that has dedicate his life to improving the delivery of justice to the people of his community and throughout the United States. He is driven to make sure that the wrongful, careless or negligent behavior that caused his clients' injury or loss does not happen to others.