Hawaii legislators think that $20,000 is enough Bodily Injury Coverage:
What mandatory auto insurance laws exist in Hawaii?

In Hawaii, all motorists must carry minimum levels of liability coverage. The minimum levels are $20,000 per person for bodily injury, $40,000 per accident for bodily injury, $10,000 per accident for property damage, and $10,000 personal injury protection (PIP).

Before registering any vehicle in Hawaii, you must show proof of coverage.

What is the Minimum Liability Coverage (Bodily Injury amounts per person, per accident, and property damage amounts):

If you buy automobile insurance in Hawaii, your policy must include minimum liability coverage of:

$20,000 per person for bodily injury
$40,000 per accident for bodily injury
$10,000 per accident for property damage
and
$10,000 personal injury protection (PIP)
Are they nuts? You tell me.
What is bodily injury insurance you ask? Bodily injury insurance pays for the losses suffered by someone who suffers a personal injury in an automobile accident. A speeding car crashes into your car. You are taken to the hospital in an ambulance. You spend a week in the hospital and have a surgery on your fractured cheekbone. Bodily injury insurance is what the driver who hit you and caused your injuries has to pay you for your losses.
Let's add it up. A week at Queens Medical Center with one day in critical care: $50,000. Surgery and follow-up from a facial fracture: $25,000. Cosmetic surgery to improve your appearance (you will never look the same again): $15,000. Oh and I forget the neck pain that your doctors tell you that will have to live with for the rest of your life. No treatment. No cure. Bodily Injury insurance is what the other driver has to pay for the injuries caused by his or her negligence.
Hawaii legislators think that all that negligent driver needs to buy for Bodily Injury insurance is $20,000. They also passed a neat little gift to their friends in the corporate offices of Liberty Mutual, State Farm, Allstate and AIG and passed a law that reduces the amount of the Bodily Injury insurance payout to you, by the amount of your medical bills!
You do not have to have an advanced degree in math to see that the Hawaii legislature cares more about insurance companies than do about you.
How many of you tell your insurance agent "get me the cheapest policy"? I understand. We are all trying to make ends meet. Maybe we all have to gamble? Times are tough. Just remember that if anyone depends you, tehy are the ones who suffer.
How much more would it cost for automobile insurance if the Hawaii legislature increased the minimum Bodily Injury limits to $300,000? Almost nothing. Governor Lingle knows this. Calvin Say knows this. The insurance industry is rolling in money. I invite them to talk about this issue. I am sure that they are too busy to talk to the poeple. Probaly they are a fundraiser tonight.
I am calling out Hawaii legislators, Governor Lingle and the insurance industry to explain their position on automobile insurance. Calvin Say: where are you? Please explain this disgrace to the voters.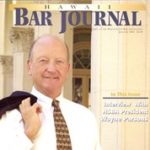 A resident of Honolulu, Hawaii, Wayne Parson is an Injury Attorney that has dedicate his life to improving the delivery of justice to the people of his community and throughout the United States. He is driven to make sure that the wrongful, careless or negligent behavior that caused his clients' injury or loss does not happen to others.