One of the favorite songs in Hawaii is the great Kui Lee tune "Days of my youth. Don Ho made it famous and it captures the joy of being young.
http://www.youtube.com/watch?v=gyRAVbeLFnI
Nothing is worse than a call from a friend that a child has died ……. or a report on the TV News …… or a call from bereaved parents to my office to ask for me to help them when their child has been killed in an automobile accident in Honolulu or Maui or the Big Island. I hope that no more children die or are seriously injured. Anywhere. Forever. But I know it will happen.
That is what intrigued me about a new organization that is called KidsAndCars.org that I learned about through the national organization of lawyers called The Injury Board, that promotes safety in all aspects of our lives.
The Mission Statement of KidsAndCars.org tells where they are coming from:
KidsAndCars.org is a national nonprofit child safety organization dedicated to preventing injuries and death to children in or around motor vehicles.

KidsAndCars.org has been pioneering a national prevention movement since 1996 by promoting the highest level of awareness among parents, caregivers, and the public at-large about the dangers inherent to children in or around motor vehicles.

KidsAndCars.org works to prevent these sudden tragic events through data collection, education and public awareness, policy change, regulations and survivor advocacy.
In Hawaii, automobile accidents are the leading cause of death for our children according to statistics compiled by The Children's Safety Network (CNS) the National Injury and Violence Prevention Resource Center:
Unintentional motor vehicle traffic crashes (181) were the leading cause of injury death for children and teens ages 5–24 in Hawaii during the period 2003–2007.
Across the country we read and hear stories about child safety, car seats for children, and the danger posed to our youth by automobiles accidents. Stories such as the Los Angeles Times story "For children, safety first — sometimes …" talks about car seats for kids and uses a Bruce Springsteen lyric from My Hometown to bring us emotionally to the lives of children and to serve as a focus on what we actually do to make the world safe for vulnerable youth.
I hope that we can see KidsAndCars.org become active in Hawaii and a resource for parents, elected officials, the media and care-givers to reduce injury and death for Hawaii children. I am going to see if I can get involved with this organization and wonder if others in Hawaii might want to join me in the endeavor. Advocating for safety is a public concern and sometimes it takes a network of regular people, lawyers, doctors, nurses and reporters to bring attention to safety needs.
Let me know if you are interested in getting involved.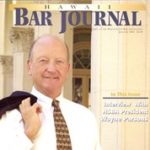 A resident of Honolulu, Hawaii, Wayne Parson is an Injury Attorney that has dedicate his life to improving the delivery of justice to the people of his community and throughout the United States. He is driven to make sure that the wrongful, careless or negligent behavior that caused his clients' injury or loss does not happen to others.